The fact that Frank is a depraved lunatic is an accepted fact on Shameless. In "Summer Loving," he was off on his latest misadventure of cozying up to a dying woman in order to get her pension when she finally kicks the bucket.
From there, though, you find out that he's letting a pregnant immigrant seek refuge by giving her a room to rent in his house. Is there a tiny heart in there after all?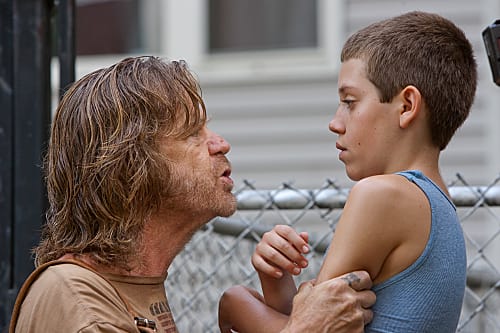 I'm going with a big resounding NO. Mainly because Frank would never do a good deed if there wasn't money involved. We all know just how far he will go for the cash, as evidenced last week when he let a bunch of old guys pleasure him.
Now he's moved in on "butterface," an old regular from the Alibi who everyone describes as having a bangin' body but busted face. Ouch. Frank would totally blow off Sheila and her recovery to try and get with a dying woman so he can get his hands on her pension. I don't even know if there's a word for how awful he is.
Can we just take one minute and talk about the fact that Dottie literally cannot have sex? If her blood pressure goes up too high her heart will explode. As she put it, "if we f*ck, I die." But Frank is determined to hang in there. 
But fear not, Shameless isn't without it's good guys. Veronica taking the nursing home people to the park warmed my little heart. I'm glad V is going to draw the line at the booze cruise idea, though. I just love V, Kev and their house guest Ethel. But why is she shaving V's legs for her? Awkward.
Only slightly less awkward then having to share a room with your three-year old brother who is constantly yanking on his boy parts. Poor Debbie! She needs her own room. I've seen a lot change in Debbie this season in only two episodes. She is definitely hitting that age where she's going through changes. She's growing up and can't go with the flow as easily anymore. I think it's time for Frank to give up his room so the kids aren't so on top of each other.
Fiona is holding strong as the ruler of the house. She refuses to give in to Jasmine's offer of finding her a sugar daddy, no matter how hard Jasmine pushes. Even though I think a lot of this is about how much she still love Steve, we all know deep down Fiona tries to do the best she can when it comes to morally questionable situations.
That said, everything might change next week when the gorgeous Taylor Kinney stops by as her high school crush Craig. I'm not going to lie, I was cracking up with Carl read her journal during "storytime." Come on, who didn't spy on their older siblings and snoop around a bit?
As for the rest of the Gallaghers, do you think Lip is set to get his heart broken by Karen? What about Ian and Mickey, could it turn into something more? Hit the comments and stay tuned!