"Chapter Three" continued in the same vein as the two-hour series premiere, starting off with some high tension, as Mitch McDeere was chased during the present time before jumping backwards in time to focus on Mitch, his clients and his first real steps as a part of the (unbeknownst to him) shady firm, Kinross & Clark.
Sure, the episode threw a lot at the viewer in terms of story, but I think it worked for the better. Giving Mitch multiple clients is a fresh step in terms of the normal one and done plot most law procedurals. In a way, The Firm follows a similar linear path for its particular cases of the week, but by weaving in and out other storylines, it didn't feel completely like a stand alone episode.
It's ambitious, and the writers have to make sure not to throw out so many different directions that some get lost in the wind, but it works in keeping a pace that feels like the show is moving forward.
There is a sense that the entire season, much like a book or movie, will have a complete story to tell amongst all the little ones that are scattered throughout. At least I hope that's how it all comes to fruition.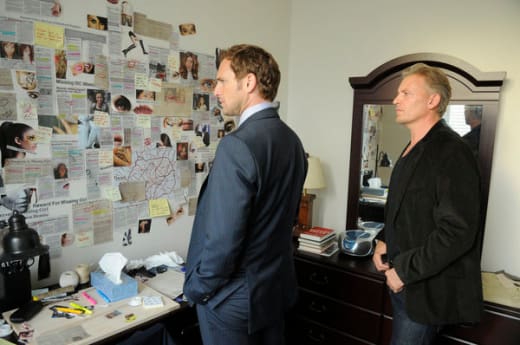 It's obvious that Mitch is resolute and dedicated to the law, and while that works for him as the hero of the show, it also serves as a certain flaw to his character. It is, of course, a good flaw that causes his own inner conflict to ring out.
In defending Calvin Parker, Mitch knew his client was innocent and was willing to set the man free even with the possibility of having the murder finger pointed at his other client, Ryan. That said, Mitch knew where Amy's body was located but refused to Calvin. His idea that the "law is the law" brings forth many rules and situations that can make being a lawyer difficult, especially when he realized that Calvin did actually kill people. Having a conscience is tough.
But, in the end, despite his mistake, Mitch remained focused on defending his clients and bringing them justice. It all worked out for him.
And I love that he was proactive throughout the episode, even bringing his work home with him. It never seems like he stops to catch a breath, but at the same time he is clearly passionate about his work. There is a dedication and like-ability that Josh Lucas pulls out of the character, making me want to watch him. A strong lead like Lucas will certainly help keep the show on its feet.
I'm also glad that the big conspiracy case surrounding Sara Holt received a little attention but for now, it doesn't seem anything out of the ordinary besides a murder case.
As for Martin and his connection, I have a feeling that his company will play an important role. And what is with all that sniffing? I know they joked about cocaine and a cold, but could he be infected with a virus? Is his company creating some drug that is deadly? I know my theory could be a stretch since we don't really have any information, but I could definitely see a pharmaceutical company as the big bad guy of the season.
For all of the fast pacing and suspense involved, I was a little disappointed at how Ryan and Calvin's case was quickly wrapped up at the end. I know it served to close that case of the week, but I was almost hoping that the series would extend one of them into the next episode. Calvin was creepy enough and the thought that Mitch let a killer go could have played a particular psychological game with him for at least a few more episodes.
I also don't understand how Claire is allowed to be in Abby's class. Isn't that not permitted? I guess it gives them mother/daughter screen time, but it felt like it took away from the interesting legal drama. Even when Abby was talking to Tammy about the cheating situation, I kept thinking that, compared to what Mitch was dealing with, it felt slow and stuck in purely to incorporate a sense of character development. Except it wasn't that interesting and I just wanted to get back to Mitch.
While I recognize that The Firm isn't filled with crazy jaw dropping twists (at least for now) it does provide a sense of intensity and suspense when it comes to each particular case. Again, nothing feels overly new or groundbreaking, but the drama does manage to keep a strong formula in place, delivering gripping episodes centered around a main character worth watching.
Sean McKenna was a TV Fanatic Staff Writer. He retired in May of 2017. Follow him on Twitter.