Let's get right to it, shall we? To conclude the first new episode of The Vampire Diaries in weeks, Elena and Damon gave many fans what they've been clamoring for all season:
A kiss.
And not some kiss where one party thinks he's on his death bed and the other is comforting him in a time of pain. A real kiss. A definitive lip lock. An official, wet, tongue-filled jaunt to first base. Was it worth the wait, Delena 'shippers?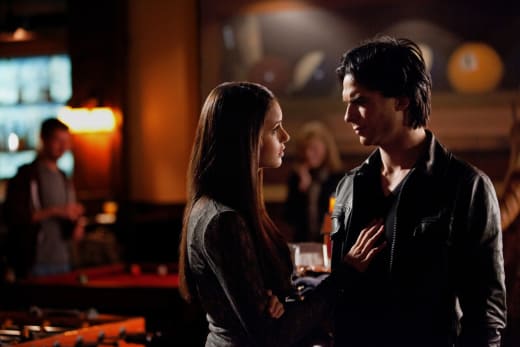 Count me among those who welcomed the development. Not because I'm rooting for Elena and Damon. Nor am I cheering on Elena and Stefan. I'm simply a fan of strong storytelling and it was about time the writers chose a path for these two.
Who knows where this path will lead. Who's to say whether it goes any further or what happens in a week. But for now, when all we have to go on is what we just witnessed, "The New Deal" provided Damon with a legitimate basis for finally laying one on Elena. We've had enough longing glances, enough tip-toeing around the subject.
Damon loves Elena. Stefan doesn't want her anymore. And, hey, as Damon put it, if he's gonna feel guilty anyway, why not give himself a moment he can savor? Something to actually feel guilty about? Bravo, D. Way to make your move.
But while the Smooch Heard 'Round The Vampire Diaries World may be all most fans are talking about right now, it wasn't all that went down on the first new episode of 2012. The hour wasn't filled with the show's usual action, twists or turns - but it did feature a number of revealing conversations that should lay the groundwork for what's to come. To wit:
A House for Klaus. The scariest homemaker ever had a plan for his casketed family members: he wanted them all to live happily ever after in a mansion his army refurbishes (Extreme Makeover: Hybrid Edition?). He still does. He just has to actually get those family members back from Stefan.
Should Elena have helped this process along by handing Rebekah over to her brother? I think so. She can't trust Klaus, of course, but she can try to play his game and understand his goals. There's no point in being stubborn here. If Klaus can reunite his family, he really will leave Mystic Falls alone.
Hear that, Stefan? Stop watching ABC on Wednesday nights at 10 p.m. Revenge gets you nowhere. It simply endangers the ones you love.
Farewell to Jeremy? I've read nothing about Steven R. McQueen leaving the series. It's safe to assume Jeremy will return at some point. But his departure here made perfect sense and, let's face it, if protecting Jeremy truly is Elena's priority, she made the proper decision and he should never come back.
Two ex-girlfriends are dead. Another is the most boring character on the show. His aunt has passed. Hit those slopes in Colorado, Jer. You've earned a long vacation.
You Gotta Have Faith. Or do you? Tyler thought so to begin the episode, explaining his siring to Klaus in ways reminiscent of a cult. He maintained possession of his own decision-making factors... but also showed complete faith in his leader. Can Tyler truly see right from wrong anymore? Did Jeremy's crossbow-armed message resonate? It appeared to, which means Tyler could actually end up as a secret weapon to be used against Klaus.
Penetrate his inner circle? Act like a loyal servant? Pounce when the time is right? It might take a hybrid to kill a hybrid. And the good guys have themselves a hybrid! If he's willing to play the part. How can he not? If only for the love of the (very much missed this week) Caroline Forbes alone?
Got a Secret, Can Damon Keep It? Forget the kiss. Damon should be feeling guilty for another reason: he's now teaming up with Stefan, unbeknownst to Elena. Why do I get the feeling she won't be happy when she learns the brothers are plotting behind her back?
Far more questions than answers this week. A lot of talking that, I have no doubt, will lead to far more action down the line. Sides are being chosen. Plans are being made. And, of course, spit is being swapped.
Check out the CW promo for next Thursday's "Our Town" and respond: WHAT DID EVERYONE ELSE THINK?
Matt Richenthal is the Editor in Chief of TV Fanatic. Follow him on Twitter and on Google+.