A gorgeous gangster's moll, a cursed diamond necklace and private eye's diary.
"The Blue Butterfly" had Castle and Beckett investigating murders that spanned over half a century. Now, our Round Table team of Chandel Charles, Jim Garner, Courtney Morrison, and Christine Orlando debate Castle's past, present and future. Won't you come along and join us?
-------------------------------------------
Who had your favorite 1940s alter ego?

Chandel: I think Alexis' Sally was pretty good. She got to play the bad girl in this one, which was fun!
Jim: Martha. She went platinum blonde for it and was mothering Castle's alter ego still!
Courtney: Ryan! The accent and the slicked back hair worked for me.
Christine: I couldn't get over Kate/Vera's wardrobe. Simply gorgeous. I was in awe of every dress.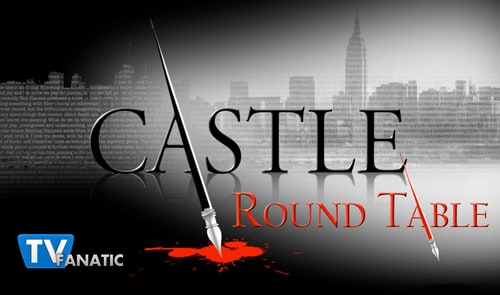 Do you think Beckett should have arrested Joe and Vera?
Chandel: Of course not! What a great story they had! I think it's a reflection of where Kate's heart is right now. She's willing to entertain the great love stories she might have scoffed at before because of Rick and I love getting to see that side of her.

Jim: Not sure what the statue of limitations on unsolved murders is, but I think she did the right thing not arresting Viola and Jack.
Courtney: Nah, like Jim said, the statute of limitations for sure had to run out. Anyway, they were two people just trying to live a good life at this point. Let them be.

Christine: I'm pretty sure there isn't a statute of limitations on murder and I'm sure Kate should have turned over the evidence to the DA but I'm okay with how it worked out. It's nice to see Beckett follow her heart for once. Hopefully she'll do that more in her personal life.
What was your favorite scene?
Chandel: The part where Castle said "Kate's heart raced" and tried to cover it up with "fate." Kate confronted him so fast! It was a great moment. I'm still smiling about it.
Jim: When Castle realized he was narrating. Talk about touching that 4th wall just a tiny bit. Classic!
Courtney: Castle and Beckett sitting down with Vera and Joe. Kate was interested, Castle had figured it out once again. And now they were both looking at people that Castle had imagined them to be (probably causing Beckett to think the same thing in her mind).
Christine: I loved the scene where Castle gets to the end of the diary and Kate's upset because there's no end to the story. She looks so disappointed and Castle looks delighted that he's hooked her in and she's willingly followed him along on this ride. 

What do you think of the progression of Rick and Kate's relationship?  Has the show taken too long to get them together?  Are you enjoying the ride or getting bored with the stall?
Chandel: For whatever reason I am not aggravated by the progression, as long as it feels like it has been. I read somewhere that Andrew Marlowe said of Kate and Rick's relationship that all the great love stories take time, and I continue to watch that story unfold unconcerned about the pace overall. I do wish we could get another little truth moment where they consider moving forward. But I can wait.
Jim: Rick and Kate have a relationship?? Could have fooled me, looks more like a junir high crush. I swear any day now Rick is going to hand her a note that says "Do you like me? [_] yes [_] no". GAH!! Get on with it, already!
Courtney: I get that with any good show, you don't want to jump into anything too quickly. But it's not the first, nor the second, season anymore! I don't need them to be in a full fledged relationship. I get why the writers don't want to go there. But you have to give us a little bit. Have them hook up one night and we can deal with the aftermath of that before settling into a serious relationship.

Christine: I'm completely against the hook up idea. I want the real deal. Mostly because I can see these two being so much fun once they're together. Teasing, flirting, and hiding little moments from Gates and the boys. I'm all for drawing out the love story but it's season 4!  Enough soulful angst. Give us some romance. Now!
C. Orlando is a TV Fanatic Staff Writer. Follow her on Twitter.