We've had NCIS cases that have taken twists and turns, but none that I recall as crazy as that in "Crimeleon." Wow. That's all I can think to say. Plus, unrelated to the case, that last minute with Granger was insane!
I don't even know whether to start with Granger or the investigation, as both were spectacular. Let's go with Granger. As Hetty kept asking him, "Why are you here?" We all want to know the answer to that question.
What is the real answer? The one that Granger "looked?" Or, what he said, "I'm here to catch a killer?" Could they possibly be the same thing?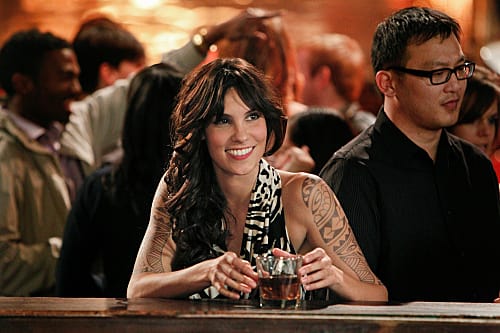 When Granger first looked at Kensi, I thought, "Oh my ... he is her father!" Now, why would that be? And, if he is, why would he come into the boathouse and be such an ass? If not, could he know her father? For some reason, this season seems to leading towards a reveal about Kensi's dad.
If the look and the remark are connected, how is Kensi connected to or responsible for a killing? I didn't like Granger from the beginning, but this secret mission of his - while intriguing - is annoying! What is his story?!? I'm finding it frustrating.
The "blackmail" move by Callen and Hetty to get an answer from Granger was perfection, especially since he brought it on himself. There was no reason for Callen to take the blame for DeGramont getting away. How was he supposed to know the guy wasn't the driver? The documents supported that the dude was Ghillas; plus he had a bullet in his face!
Granger, on the other hand, let a fake Interpol agent into NCIS. Wouldn't Interpol send over information about their agent? If not, he should have requested a picture and verifiable information. At a bank, they have photo records for the armor car guards to verify against. A company ID isn't enough. NCIS would surely have at least the most basic security protocol in place, right?
Obviously, something went awry and DeGramont was able to infiltrate NCIS. I became suspicious of Kallstrom when they were all in the tech center and Callen complimented DeGramont on being able to impersonate three people with three different accents. Kallstrom's reaction there was off. I thought maybe he was DeGramont. He wasn't bug he was pretty close.
Of course, when Kallstrom was killed, I discounted my suspicions... only to be wrong again. So, many twists and turns. In the end, Kallstrom was killed, the fake Kallstrom was killed and the only person left standing was DeGramont himself. And, he was so close!
Unfortunately, he has his sights set on Callen and is determined to take him out. DeGramont must want to do it in a spectacular manner because he had plenty of opportunities to just shoot him during this case, most easily at the night club.
DeGramont is a scary guy, perhaps the most ruthless that the team has faced. I have confidence that they will be able to bring him down! Callen can't die, right?
Did you fall for all the twists, too? And, why do you think Granger is in Los Angeles?

Odds and Ends
I love the funny moments with the team. This week, we found out that Eric was a puzzle champion. Who knew there was even such a thing? But, Nell ended up solving the matchbook puzzle. Poor Eric.
Kensi Kensi Kensi! She was smokin' hot in that dress. I'm not always a fan of tattoos, but the ones up her leg, arms, and especially her back - hot!
The banter between Deeks and Kensi was priceless. He IS her type? Hmm....
Granger - what the heck is he up to?!?
Carla Day is a staff writer for TV Fanatic. Follow her on Twitter and on Google+.