Shameless Review: The Apple Doesn't Fall Far from the Tree
Leigh Raines at .
There's one thing that can shake Frank Gallagher: Deep down, he 's just another kid who can't catch a break from his mother.
Indeed, "Can I Have a Mother" brought Shameless fans the arrival of Grammy Peggy Gallagher, played by the amazing Louise Fletcher.
Grammy certainly doesn't hold anything back. She brought out the worst and, coincidentally, best in Sheila Jackson. Joan Cusack went balls to the wall with that wedding toast and it was phenomenal. I'd say it's the best we've ever seen her character.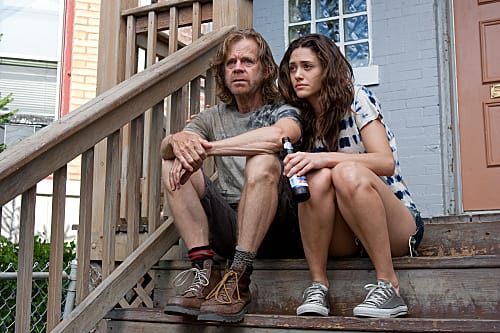 Not only was Grammy feisty and foul-mouthed, but she was sharp. Frank has a master's degree in the art of bullsh*t, but he couldn't put anything past his old momma. Broad was in prison for 12 years for dealing meth, I don't even think Frank would last that long.
He thought he was doing right by his mother getting the 50 grand from her old doctor buddy, but he inadvertently screwed her out of 200 grand. I love that she knew there was a money missing and her method for getting the truth out of Frank was quite effective.
She jives well with the Gallaghers. She knew to buddy up to Carl and Debbie and she can level with Fiona. Most of all, she's crazy - and she knows how to work with it. Sheila didn't warm up to her character like I did, but honestly I don't blame her. Sheila is pretty damn crazy herself but she doesn't know how to work with it in the same way Grammy does.
I wonder what medicine Sheila is on if she is so agoraphobic that she was about to cook a fish in her bedroom. Just as a sidenote: ick. She still managed to throw a wild party from the comfort of the upstairs. I think much credit should be given to her new son, Jody, who absolutely adores her.
When Frank went off on him after finding out that Karen got the insurance money, I really didn't think Jody was expecting it. I felt worse for Sheila in that moment than I did when she was fighting with Grammy. Sheila doesn't know Grammy, but she genuinely cares for Frank. I also think Jody genuinely cares about Karen.
I doubt Jody knew about the insurance payoff. He doesn't seem like a deviant, just like a little bit of a dud. The opposite can be said for Lip. Note to Lip: If you're depressed over your ex-girlfriend having your baby with another dude, you probably shouldn't tell her to get an abortion. That's not going to woo her back buddy! He and Ian better make up and they better do it fast. Like Fiona said, they are her rocks and they are also each other's rocks. He needs his support system.
It's beyond me how Fiona keeps it all together with everything going on, but now that Steve's back I think she's going to have a much harder time. The second she saw that ring on the Brazilian girl's finger I could feel her pain. Then we saw the sadness turn to rage when Debbie dropped the secret about Steve really being Jimmy. She misses him and he misses her. I think it's going to be a bit of an uphill battle before they can work out it though.
Oddly enough, I think the scene that made me most emotional this week was the moment between Ethel and Malik on the bus. I don't know why, but I just love them together. Maybe because they actually talk and relate and it's not all about sex. It's not really about sex at all. How many teenagers can you say that about in today's world?
I found Kevin's protectiveness and references to the Sister Wives as Jesus Witches and Jesus Puppy Mills frigging amazing. Was anyone else as amused by that as I was? How did it feel having Steve back? What was your impression of Grammy Gallagher? Hit the comments!