With the advent of social networking and smart phones, we know more about what our friends and family are doing every minute of the day than we ever have in the past. I enjoyed the creative use of this fact in "Trends with Benefits."
Major kudos to the writers for not getting tangled up in trying to use Facebook, Google Plus, My Space, etc. and keeping the social network aspect of this story generic so that we could focus on the meat and potatoes of the crime to solve.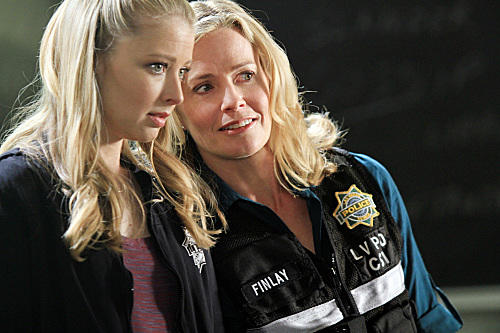 However, when all was said and done, I was a bit disappointed this turned out to be a "voyeur recording of a rape" case. That story trope has been done in several different ways before on TV and in movies. I was honestly expecting the big reveal to be that Laudner was sleeping with Brook Cassidy, and that Pete had caught that on tape. Given the overt amount of attention they paid to Brook and her celibacy pledge, it would have fit in perfectly.
Brook was a fun addition to the mystery as a generic Miley Cyrus or Selena Gomez type of character, where she is aware she is in the spotlight and really wants to stay on the right path, not just because she is being watched but because it's what she believes. 
Then again, the celibacy pledge also turned out to be a great "red herring" that I fell for hook line and sinker, so I didn't see the real ending coming.
While we are talking about the ending... I still haven't fully decided what I think of Laudner's walking free from jail but becoming a pariah in the social network. 
Part of me likes the symmetry of his actions effectively branding him with a modern day version of the scarlet letter, the very topic he was discussing when the character was introduced. But the other part of me wonders if being "outed" on a social network would really amount to much beyond needing to move to a new area. I'm honestly not sure if the punishment would really fit the crime if the victim didn't want to press charges. 
What do you think? Do you think social networks have the power to appropriately punish social criminals? More importantly, should they be able to?
Jim G. is a TV Fanatic Staff Writer. Follow him on Twitter.