Changes are coming to Fairly Legal. That much was obvious after I visited the show on location in Vancouver last month.
After viewing the massively large and wonderfully spacious set of the Reed & Reed law offices (and, trust me, the detail goes all the way down to the sticky notes and legal pads placed on all the characters' desks), I had a chance to sit down for a casual conversation with the actors about what's in store for the second season.
Michael Trucco (ADA Justin Patrick), for instance, took a break from filming a pivotal court scene to chat about his excitement for his character's growth and movement away from not simply acting as "a singular entity for Kate's purposes only."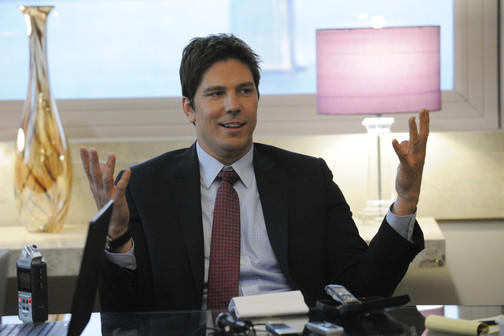 Trucco admitted that the season's reshaping is a positive transition, as it focuses "less about the particulars of the mediations and of the cases that we're doing and more about background and character study." He wanted to get to the heart of what his character does, specifically as a lawyer, which includes taking some of his own cases to court.
And that deeper look into what makes this straight-laced, stand up guy also involves a storyline that stirs Patrick's political aspirations.
Campaigning for District Attorney against his current boss, played by Esai Morales, should prove to be an enticing acr that won't simply be mentioned and then fade into the background. It adds another layer of detail to Patrick that raises the stakes and pushes some tension into the casually cool character.
Of course, the tension between Patrick and Kate Reed (Sarah Shahi) will yield "a dynamic, a shift in the paradigm between Justin and Kate," Trucco said, adding coyly: "But I think, strangely enough, it's not what you would assume that that'll come to be."
Trucco continued with a smile by implying that the arrival of Ryan Johnson as Ben Grogan throws another wrench into Patrick and Kate's relationship: "My hair was up a little bit on the back of my neck," he said upon hearing the news of this casting.
"I'm Kate's guy. I'm, you know, her man, and suddenly we introduce a character who's spending a lot of time with her."
The enjoyable scenes between these two certainly lie in their opposite personalities and their desire to prove their prowess as men, but also in vying for Kate's attention.
"We actually get a nice juicy storyline and you get to see the dynamic between Ben and Justin, and it escalates. It's a classic territorial thing; two guys, you know, trying to stake their claim on the same territory, the same property. It was a lot of fun."
Look for Michael Trucco and the return of Fairly Legal at 9/8c on USA Network Friday, March 16.
Sean McKenna is a TV Fanatic Staff Writer. Follow him on Twitter.