Happy Endings Review: Making John Hughes Proud
Leigh Raines at .
This week's Happy Endings left me with a major jonesing for a John Hughes movie marathon. "The Kerkovich Way" showcased Max and Penny participating in Chicago movie themed scavenger hunt, the very city where the famed director set many of his hit flicks. 
Not only did the show name drop gems such as Risky Business, Ferris Bueller's Day Off, The Breakfast Club and my personal favorite Sixteen Candles, but we got an awesomely random cameo!
The parking attendant who so famously took Cameron's father's Ferrari for a joyride in Ferris Bueller dropped in on Max and Penny during the scavenger hunt. I love fun appearances like that.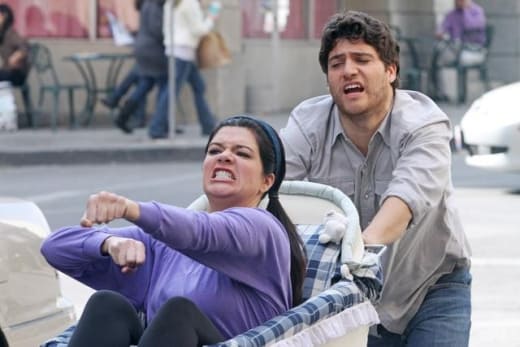 Despite how depressed Max was about his breakup with Grant, he was a good sport and a great friend to Penny. I like how he perked up mid-scavenger hunt when he pulled a Risky Business and attempted to rescue the "crystal" egg.
Then his pep talk to Penny about how John Hughes wouldn't want the other team to win was hilarious. What short haired blonde villain comes to mind when you think John Hughes movies? Caroline in Sixteen Handles?
Well nobody needs to chop off anyone else's hair, but that blond bi-otch had it coming after that nasty dig to Penny about "hoping she had some frozen eggs." Look lady, nobody likes a bragger.
Furthermore, Max was only nodding his head to her "baby/bestseller" rant because he was trying to placate her so she would leave and he could finish his floor pie! If Max brought a talent to Rosalita's Run it was obviously anything food related.
Fortunately for us Max and Penny finally won and not just in some alternate Kerkovich Inception like reality. This brings us to the other main storyline this week, the brainwashing of Dave and Brad. 
When we last left the gang, Alex was finally trying Dave's speakeasy drink "Whore's Bath" which apparently makes people feel sexual towards Dave. Pair that aphrodisiac with the fact that Alex and Dave have slept together a billion times before and voila, they ended up in bed together.
It's never a great idea to have sex with a friend, especially a friend who is also an ex. 
I can see why Alex would want to avoid talking about it. Flat out denying it? Not so much. Poor Dave deserves more than that! I'm sure he felt just as weird about it as she did. But none of that really matters because when Jane Kerkovich-Williams sets her mind to something, there's really no stopping her.
Jane is an evil genius, especially when holding a white fluffy cat. I love how well she and Brad know each other because it makes her brainwashing plans even more intricate. Between forging the credit card receipt, putting blanket hairs on his sweatpants "Karen" and dropping the popcorn in his mouth, she had every base covered.
Unfortunately "The Kerkovich Way" doesn't pass down to all of the women equally. Alex slipped up and dropped the ball, resulting in the sisters fighting in another language, much to Brad and Dave's delight. 
On that note, I'll leave you guys to ponder whether "The Kerkovich Way" really works. I'm going to hit up Netflix and browse some 80s favorites. Don't forget to check out our Happy Endings quotes and hit the comments!