It's 80's night on American Idol. I'm expecting great things from a few of these contestants tonight. (Ahem, Elise, after your performance last week, I'm looking at you!) Here's hoping they don't let me down.
Ryan reminds us that the 80s brought us stonewashed jeans and neon tube socks. And then treats us to a picture of Randy Jackson from the 80s. I'll gladly welcome the music of the 80s back into my life, but if the fashions never return, I'm completely okay with that.
Now that we're down to four guys and four girls, in addition to singing their solo performance numbers, we'll also get guy-girl duets. To mark the occasion, Jimmy Iovine has called in No Doubt members Gwen Stefani and bassist Tony Kanal.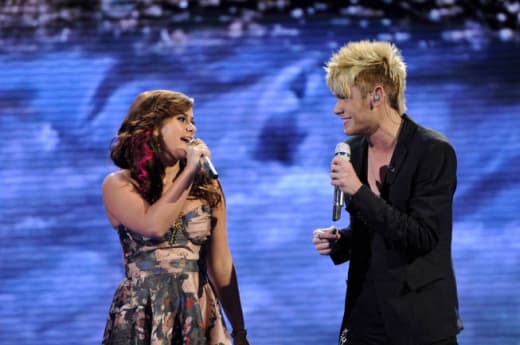 DeAndre Brackensick opens the night singing "I Like It" by Debarge. Gwen says what he needs is confidence. I think what he needs is to stop singing that crazy falsetto. He starts the performance in the audience and makes his way up to the stage where he goes in an out of his trademark falsetto and flips his hair around way more than is strictly necessary. Way. J.Lo calls it "super great" and says that even his hair flipping was "natural." (No, J.Lo. Just...no.) Steven says it was "captivating." Randy says this was the perfect kind of song for DeAndre and calls it amazing. And the whole time my mouth is just hanging open. I'm pretty sure I heard Jimmy say he thinks DeAndre will be in the bottom three tonight before the audio faded on his interview before the performance. I'm hoping Jimmy's right. 1/5
Hopefully continuing her trip to the top, Elise Testone is singing "I Wanna Know What Love Is" by Foreigner. As the only contestant who is old enough to remember the 80s, I have high hopes for her tonight. Gwen and Tony got "goosies" from her practice. At about the 30 second mark, I felt like I was listening to this song for the first time. It felt like her song, even if it wasn't perfect. Steven says it didn't feel like the right song choice. J.Lo compliments Elise on her outfit first, which is never a good thing, but says she could feel Elise's heart. Randy says she was just slightly off the pitch the whole night. Elise looked like she was about to cry, and I think part of her wishes she'd stuck with Leonard Cohen's "Hallelujah." Even if I liked her performance, I think Elise could find herself in trouble this week. Good thing the judges still have the save. 3/5
The first duet of the night is a joke. It has to be. Skylar and Colton sing "Islands In the Stream" from Dolly Parton and Kenny Rogers. It's...I mean...Skylar's calmed down significantly for this performance and Colton is a fish completely out of water. At least they sound okay?
Phillip Phillips chooses "That's All" by Genesis and has a really rough practice. Really rough. Gwen and Tony think he'll pull it together for his performance and he does. He picked a song that's tough to sing and, in typical Phillip fashion, he does it. He has his brother-in-law jamming on the stage with him which probably helps his comfort level. Steven says Phillip loves being who he is. J.Lo said it got off to a rough start musically but he brought it together in the end. Randy said it was another great performance. The thing about Phillip is that he's consistent. Consistently good. Every week, we know what we're getting from him. He knows who he wants to be and what kind of records he wants to make. That level of comfort goes a long way with me. 4/5
The second duet of the night is "I'm So Excited" by The Pointer Sisters as sung by Hollie and...DeAndre. With his hair, and with this song in general, I'm immediately transported back to Saved by the Bell and Jessie Spano's energy-pill induced breakdown. "I'm so...I'm so...scared!" On the plus side, Hollie was great and proved, once again, that she DOES have it in her to sing the uptempo songs.
Joshua Ledet picks "If You Don't Know Me By Now" by Simply Red. He struggles a little in the practice and Gwen, speaking volumes of truth, says that sometimes Joshua's vocal acrobatics can be too much. Joshua pulls it together in practice and gets high praise from Jimmy. It's a good performance. J.Lo calls it a "powerhouse performance" and says she could tell he was comfortable. Steven says it was "just perfect" and some other things that seem contradictory. Randy clearly has a favorite in Joshua Ledet. I so badly want to like him and this performance, but he's going Glambert on us with the constant "Look what I can do!" shouting in the middle and bridges of his songs. I want him to come out and sing something mellow and not shout. I do, however, like that he acknowledged that he's only 19 and has no idea what love problems really are which is lending him some difficulty with the song choices. 4/5
Singing "How Will I Know" by Whitney Houston, Jessica Sanchez heads into her practice where Gwen equates Jessica's movements to those of a lounge singer. Jessica doesn't listen, or doesn't understand what Gwen means, and opens with the clearly rehearsed and pageant-y hand gestures she's relied on for the whole competition. J.Lo is amazed at how much sound comes out of Jessica's tiny body. Steven says everything Jessica does is great. Randy says she sang effortlessly. Simon, were he not over on that other show where people have to have "it," would've called that karaoke. In anticipation of the negative comments I'll get for saying this, I'll say it anyway. I didn't like it. Jessica can sing. And sing well. She picks uptempo numbers and tries to work the stage in ways Hollie, her vocal and balladeering counterpart, doesn't. But it was just okay for me. 3/5
In a pairing that makes sense, Elise and Phillip sing "Stop Dragging My Heart Around" by Tom Petty and Stevie Nicks. Phillip is always slightly uncomfortable without his guitar and in anything other than a solo performance. The sport coat they've made him wear probably doesn't help him at all. Elise is awesome and at least their pairing made sense.
It's an Easter miracle!! Hollie Cavanagh has picked an uptempo number! She's singing "What A Feeling" from the movie Flashdance. Gwen reminds Hollie that the song is not about feeling sorry for yourself. Jimmy hopes Hollie won't get too caught up in the technicalities of the song and will focus on the emotion. I'm thrilled to see Hollie walk around the stage while she sings instead of sticking to the same spot. I do not, however, like the fringed dress they've put her in. I don't think she ever really had a "moment" in the song. All three judges tell her she has the talent to do this, but that she thinks too much about her performances instead of just surrendering to them. Hollie's got to get out of her own head if she wants to win this. 3/5
Jessica and Joshua tackle Aretha Franklin and George Michael's "I Knew You Were Waiting For Me." In the chorus, they're great. In the verses, at times it's like Battle of the Big Voices. They take turns shouting and vocal running and the judges give them a standing ovation. For a performance, it wasn't bad. It wasn't one of the best performances I've ever seen on the show like Randy thinks it was, but it wasn't bad.
Colton Dixon takes on Cindy Lauper's "Time After Time." Gwen sang harmony with him in the practice and made his life. He hit a couple of bum notes during his performance, but Colton knows how to work a stage and a crowd like he's done this a time or two. Steven says he nailed it. J.Lo "really liked it." Randy thinks Colton made the song his own. And then Colton confesses that the version of the song he just sang was done by a band named Quiet Drive and that he loved it so much he ripped it off and added only a few minor changes of his own. I think he would've done better if he'd taken a page out of Rob Thomas' live performance book and slowed the song down, but it wasn't Colton's worst performance. 3.5/5
Closing out the night, Skylar Laine sings "Wind Beneath My Wings" by Bette Midler. Gwen calls Skylar's voice "ice cream." It starts beautifully and ends the same way. Skylar can get a little distracting with her violent arm waving, but tonight she showed a different side of herself which is what she needed to do after landing in the bottom three last week. Randy says this is her best performance to date. J.Lo, who was on the verge of tears during Skylar's performance, says Skylar just told America that "she can sing with the best of them here." Steven says that was a great ending to the night and a great beginning to Skylar's career.  Skylar is, to borrow one of Randy's lines, "in it to win it." 5/5
There are standouts that I'm definitely pulling for (Phillip and Elise with Colton and Skylar tied for third place) but each week I find myself growing underwhelmed with some of the performances. I think part of the discontent is and has always been forcing themes on contestants. A week like 80s week is fun, but when only two of the contestants were even alive in the 80s, and one only for a few months before the dawn of a new decade, it all seems generic and forced. These are not the types of songs that some of the Top 8 would ever record and that certainly doesn't help them when it comes time for America to vote. However, as J.Lo said in her closing remarks, America has to vote on the total package--which contestant do you like? Who moves you?
The winner of the night, at least as I see it, is Skylar Laine, followed by Joshua Ledet, and Phillip Phillips. Skylar showed her range tonight while Joshua and Phillip were consistent with their past performances.
Headed into the bottom three this week? DeAndre Brackensick, Elise Testone, and Hollie Cavanagh. DeAndre's time on this show is up. It truly is. Elise won't be helped by having gone second tonight. Hollie isn't connecting with the audience in the way that some of the other contestants are able to.
Oh look! A poll! Vote for the contestant you thought had the worst performance of the night and come back tomorrow where we'll find out who's going home.
Miranda Wicker is a Staff Writer for TV Fanatic. Follow her on Twitter.