A beached fisherman, Parker home from London and Hodgins on a quest to decimate the Jeffersonian budget.
"The Warrior in the Wuss" sure made for a fun but eclectic hour of Bones this week.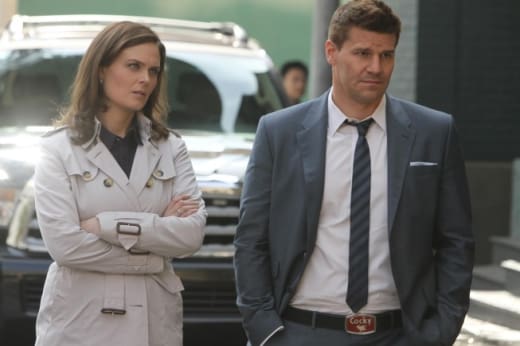 A fisherman out of water was the least of Booth and Brennan's worries. We, as an audience, were more than pleased to welcome Parker back into the fold. It felt like forever since we'd seen him last!
It was kind of sad that they tried to portray Parker like he was going through some sort of depressed phase now that he's not the only child in the family. I was going to be a little disappointed if that's where the narrative went. Who wasn't a little disturbed by the cut-up photos at first?
Then it turned out to be an epic family-centric mobile. Parker has some serious engineering skills in him. I love being reminded how smart he is. I only wish they would keep him around a bit longer.
Speaking of smart, I think Hodgins was rather genius in his strategic use of those machines for which he busted the Jeffersonian budget. He even admitted that he'd managed to use all three to solve the case. I just can't wait to see whether or not Cam allows him to keep them all. Maybe that alcohol will make her change he mind?
As far as the case went, I think that's the fastest I've ever seen a dismembered head be recovered. Lucky Booth was in such a hurry, or he might never have tripped his way into that shallow bed of water to find it!
How sad/funny was it to see that video of that little girl beating up the victim on YouTube? I can't believe they incorporated that to establish Blake's alibi. I'm starting to become ashamed of being a young person in this day and age. It's assumed we live to get embarrassing and defeating footage of others to post on the social media outlet of our choosing. So not true!
Other highlights from the episode:
Sweets threatening to get out of Booths car.
Booth yelling at him not to.
Hodgins impromptu Founders Day Party
Hodgins using his new toys to prepare the food for the event.
Hodgins successfully performing an autopsy on a worm.
Hodgins acquiring so many noteworthy moments.
Brennan trying to anthropologically rationalize Parker's behavior... to his face.
What machine would you have made Hodgins return? Do you wish Parker would stick around a bit longer?
C. Charles is a TV Fanatic Staff Writer. Follow her on Twitter.