The Voice Results: Sometimes, It Doesn't Work Out

Dan Forcella at .
Now THAT is how you do a results show! The Voice's first live elimination episode was jam packed with performances and quick results, unlike anything I've seen on American Idol or The X Factor.
It was quick. It was to the point. It may have had on glaringly obvious mistake by America and the coaches, but I will take an entertaining hour over results that make me happy any day of the week and twice on Tuesdays.
After a quick recap of Monday night and a performance by Gym Class Heroes, we got right to the results. Three members of Team Blake and three from Team Xtina were voted through to the next round by America. Who were the lucky contestants?
Team Blake
Erin Willett, Jermaine Paul, and RaeLynn
If you read my review of last night's The Voice, you know I'm already upset. The majority of America might not know what they're doing in leaving Charlotte Sometimes off of this list, but at least the majority of TV Fanatics (50.6%) had the smarts to choose her as the best from Team Blake.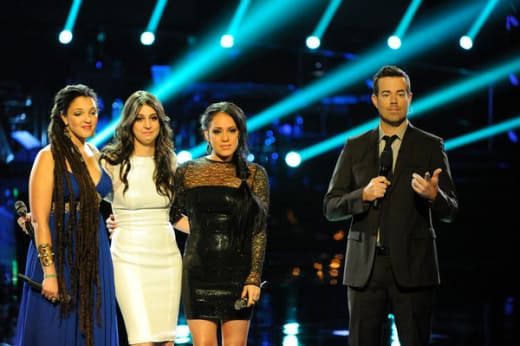 Team Xtina
Jesse Campbell, Lindsey Pavao, and Chris Mann
This was both who I thought would make it through, and who I wanted to make it through to the next round. All three were quality performances last night, and each of them will bring something special to the competition.
Then it was time for the remaining singers to sing for their coaches in hopes of getting chosen to advance to next week's live show. First up was Team Blake...
Naia Kete sang "If I Were a Boy," and once again failed to hit any notes outside of her lower register. Charlotte Sometimes then did "Iris," and while it wasn't on the level of last night's masterpiece, she gained steam as her emotions came through, and killed it by the end. Jordis Unga finished with "Wild Horses." She was much improved to start out, but missed one note badly at the end of the song.
All four coaches were asked who they thought should stick around. Only Blake's choice mattered, but they all picked Jordis anyway.  Before making his choice Blake referenced having to pick based on what he just heard. Hey Blake, you DON'T have to. You've been with these people for weeks and weeks. If you think someone is better, and will do better in the competition, you can just pick them. That's just a little head's up for next, buddy.
Ashley De La Rosa was up first for Team Xtina, and she did a middling version of "Paris (Ooh La La)." It was still better than Sera Hill's "Vision of Love," which was a vast improvement in song choice for her in comparison to Monday. Moses Stone closed out the show with "Breakeven (Falling to Pieces)," attempting to sing his way back into the competition. He didn't.
Cee Lo picked Sera to go through, before Adam and Blake quickly chose Ashley. Xtina's decision was the only one that counted, though, and after she jabbed for a bit too long, she decided to keep Ashley in the competition. I like that call.
So Jordis Unga and Ashley De La Rosa will join the other six contestants in next week's Top 16. Next week will be Team Adam and Team Cee Lo battling it out for the final eight spots, but for now, let us know which elimination makes you angry...
Dan Forcella is a TV Fanatic Staff Writer. Follow him on Twitter.