90210 Season Finale Review: 'Til Death Do Us Part
Arlene G. at .
Taking crazy chances and winging it was in full effect in "Forever Hold Your Peace."
Naomi finally got her man after she desperately attempted to push Max to admit he still loved her and initially fell flat on her face. Looking stunning as ever, and even prettier than the bride in my opinion, she had to lift her jaw off the ground when Max admitted to not remembering a stitch of what he'd said about wondering if he was making a mistake marrying Madison.
So it was no shock when she announced that she was leaving Beverly Hills immediately to start a new job in NYC courtesy of Rachel, her ex-boss.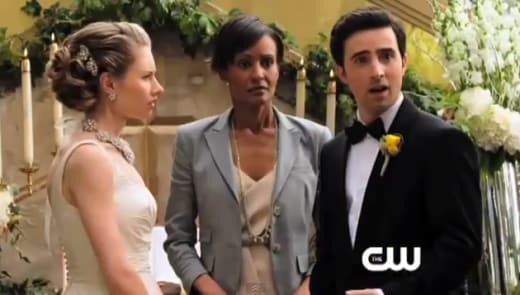 I loved how she burst into the ceremony Dustin Hoffman-style in The Graduate. Declaring her true love for Max and making a colossal fool of herself, in the end Naomi got exactly what she wanted. But will it last this time? Are we ready for Max and Naomi 2.0?
Elsewhere, Diego all of a sudden became the nation's most important immigrant when the people took to the streets to save him from being deported. Rallies, protests, petitions? Diego finally put a halt to all the nonsense when he decided to turn himself in. And, please, would Ivy really marry another guy so quickly after Raj? This storyline just needed to be put to rest. Unfortunately, it wasn't. Vowing to stand by her man, Ivy bought a one-way ticket to Mexico City. Adios chica!
Teddy returned. For the sole purpose of being Silver's baby daddy. This seemed to have resolved Silver's angst over whether Liam or Navid were the best choice. Honestly, I thought it was pretty childish of both Navid and Liam (especially!) to keep forcing Silver's hand like that. While I thought Navid made the best argument, forcing someone to love you never yields great results. Didn't Teddy look sort of stunned, though?
Dixon came back to town from touring to give his relationship with Adrianna another shot but screwed up again when he didn't show up at their designated meeting spot. Kind of hard to do when you get run over by a tanker. That crash scene was shocking. And the montage of Adrianna getting on the jet and declaring Dixon a thing to be left in the past was sad to say the least. If she only knew.
Annie and Caleb's forbidden romance finally bit the dust when Caleb's guilt over not being able to talk to God anymore became too much to bear. After getting Annie's blessing, off he went to wear the collar again. Poor girl, will she ever find a normal guy to fall for or is she destined to be every guy's target board?
Austin sure was running around spewing words of wisdom to everyone. Since when did he become the love advice guru? It added some kind of comic relief and made me like him a tiny bit more. Just a bit. He still has to take his smugness down a notch.
And, in an unpleasant return, Vanessa resurfaced and forced Liam to haul ass to Bolivia to film the sequel to his bomb of a movie. Wanting a second chance with Liam, her crocodile smile was a mile wide. Why couldn't Liam see it?
So what does the future hold for the Beverly Hills gang? Will there ever be a happily ever after for any of them?
Check our 90210 quotes and predict what the new season will bring in the comments!