Wow. That pretty much sums up the Season Four finale of Castle. Fans were promised a great hour, and the series absolutely delivered. Now that I have caught my breath, let's discuss "Always."
There were tears, smiles and one very hot and heavy hookup.
Time To Move On. Alexis graduated high school and delivered a truly beautiful Valedictorian speech. She provided some insight on how, although she is excited to move forward, she is scared to move on. Truer words were never said for how Castle was feeling at the moment. 
Twisted Ties. So a homicide that Beckett was assigned to gave her the lead she had been waiting on for a year. After the late Captain Montgomery's house was broken into, things just didn't seem right. Files were stolen on his cases and you had to know it was related to the Beckett girls. 
Castle pleaded with Beckett to back off of the case and finally admitted to her that he has had information about it and she needed to stay away... or she would be killed. This also led to one of the best Castle quotes of all time.
Every morning I bring you a cup of coffee, just so I can see a smile on your face. Because I think you are the most remarkable, maddening, challenging, frustrating, person I've ever met. And I love you Kate, and if that means anything to you, if you care about me at all, just don't do this. | permalink
Of course Beckett was pissed that Castle had kept this from her. How could she not be? Her driving force for years has been to find her mother's killer. The past year she has been focused on finding her shooter. She goes to work every day putting herself in harm's way, wondering who tried to kill her. She was bound to be angry.
This led to Castle dropping out of the case. Kate and Javi decided to move forward, with Ryan unsure of why they are keeping Gates out of it. Up until this moment in the hour, I had been thinking to myself: what is the point of Gates? We were introduced to this tough Captain after we lost Roy. But her role is so minor. She hardly makes appearances, unlike Montgomery who played an active role in pretty much every episode. 
Information led Beckett and Espo to a hotel room where they were attacked by Cole Maddox, a link in their case. After an amazing fight scene, he was gone. That is, until he showed up at the infamous "Mr. Smith's" place to demand the files so he can put "Kate Beckett in the ground for good." Looks like we have someone new to focus on next season, as well as putting a face to the voice of Mr. Smith.
You have to love how hardcore Esposito is. He was having Beckett's back, no matter the cost. And it cost him. Gates laid the smack down and put both detectives on leave. It doesn't make too much of a difference to Beckett, who decided to resign instead. Javi is now pissed at Ryan for going to Gates. Could our favorite bromance be over?
The Moment Caskett Fans Have Been Waiting For. The episode could have been titled "Finally" for several reasons. We finally put a face to Mr. Smith, moved higher up the chain of who is after Beckett, Alexis graduated - and Beckett made her move towards Castle.
There were two moments early in the episode that made me excited:
Kate held Castle's hand and agreed to have a movie night with him. To me, that was enough because that was all I expected to get. Little did I know, things were about to finally move forward.
After four seasons, Beckett gave into her feelings and went to Castle. Looking insanely hot and drenched from the rain, Beckett made her move. The knock on the door was enough to get the heart beating. What came next? Even more hot than Kate in her rain-soaked clothes. The two finally hooked up! 
So Castle fans, what did you think of the much anticipated event? Was it everything you wanted and more? The smiles on their faces said it all. It must be noted the great skills that were displayed tonight. Nathan Fillion, one who is known for being able to act with just a look, put out so much emotion. It was impressive. What else was impressive? Stana Katic's fight scene on the roof. Seriously, kudos to both actors for bringing it in the finale.
Things To Think About:
Who is Cole Maddox? How big of a role will he play next season?
Will Kate go back to the precinct or is her resignation for good?
Can Javi and Ryan make up?
Will Mr. Smith come forward to help Kate?
Alexis is heading to college, will we see more or less of her?
And the big question - what will happen next for Kate Beckett and Rick Castle? Is a relationship in their future?
Just a minute of Lanie once again.
How much do you miss Captain Montgomery?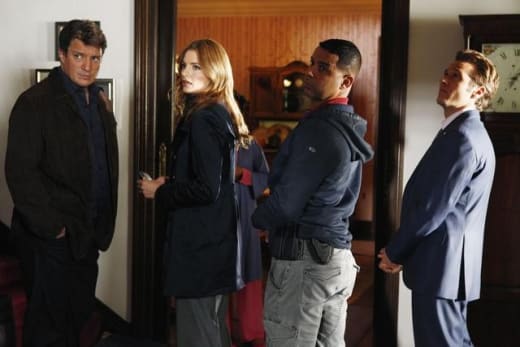 So TV Fanatics, Season Four of Castle has ended. It was a solid years, with a few ups and downs, but an enjoyable ride all the way through. We have all summer to think about the Caskett hook up and our new villain, Cole Maddox.
September will be here before we know it. See you back here, same time, same place, in the fall.