Gossip Girl Season 6 Spoilers: Takedowns, Breakdowns and Sex Tapes, Oh My!
Steve Marsi at .
Sex tapes. Heartbreak. Backstabbing. Revenge.
Several relationships unraveled, while one was rekindled as Gossip Girl Season 5 came to a close Monday, ending a turbulent chapter and setting the table for its upcoming swan song with a number of surprising plot lines.
Old faces returned and new adversaries were revealed (sort of). Lonely Boy is again an outsider in earnest. A fallen It Girl has taken her darkest turn yet after sabotaging her best friend. A Dark Knight is desperate to prove himself.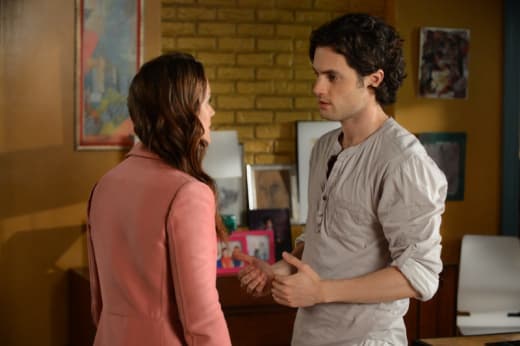 The parallels to the show's 2007 pilot were unmistakable.
"Getting ready for Season 6, everybody re-watched the pilot," executive producer Stephanie Savage told TV Line. "We talked about what our favorite episodes were, some of our favorite dynamics. We're leaving it all on the floor.
"We really want [the final season] to count and to be really special. The gang that you saw in that final act of 'The Return of the Ring' will be the main players when we come back."
Additional excerpts and spoilers from Savage's interview below:
On Blair's return to Chuck: "It was Blair coming to declare that she was in it to win it with Chuck and leaving that [relationship's future] as the question of Season 6. We crafted the last act of the episode to set us in a certain direction next year."
On how dirty Dan plans on playing in his quest for vengeance, with the help of his new ally: "When you call in Georgina Sparks, you're not looking to [play nice]."
On Serena's downward spiral: "Feeling like she's lost Blair, lost Dan, she's all by herself again. It's going to put her in a pretty precarious situation."
On the Derena sex tape: "Well, if somebody had a sex tape on their cell phone, and they said they deleted it, but you never really saw that it was deleted…"
On the big "reveal" and Nate's quest to bring down Gossip Girl: "This is something that has larger implications to the franchise beyond just our series … That reveal requires conversations at the highest level."
How do you see things playing out? Are Chuck and Blair endgame? Will he and Jack dethrone Bart? Can Ivy take down Lily? How low will S go? Has Dan lost his mind? Will the their sex tape hit the Internet?
And will Gossip Girl finally, after half a decade, be unmasked?
Share your comments and predictions with TV Fanatic!
Steve Marsi is the Managing Editor of TV Fanatic. Follow him on Google+ or email him here.