This is the Hart of Dixie I've been waiting for.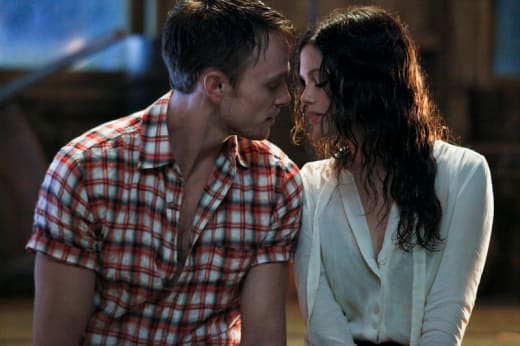 The process didn't happen overnight – my feelings were certainly frayed at times over the pace – but in the end "The Big Day" finally played Dixie's best card: the love triangle.
Now the fun can begin.
Now we get to watch Zoe teeter between two different guys, and witness each of their personalities come shining through. Now we can watch Wade and George begin trying to one up each other trying to win Zoe's heart. Now we can watch Zoe finally begin falling in love.
Plus, the love triangle finally frees up some characters in desperate need of finding themselves: Lavon and Lemon. Lavon is stuck in this limbo that he hasn't gotten over yet, as much as he likes to believe he has, and Lemon is so infatuated with the idea of marriage and its spoils that she was rushing things for all the wrong reasons.
In fact, we finally saw Lemon open up a little bit tonight as she discussed her mistakes, albeit vaguely, with Anna Beth. Either way, any kind of emotional baby step for Lemon is better than nothing; she's still one of the most annoying characters ever.
At least now Lemon finally realizes no matter how much work goes into something, when you hurt someone things take time to heal. No amount of rushing can fix that, and no amount of hiding behind status and grand ideas can fix it either.
George realized it, too, as he finally began to realize the feelings he's having for Zoe, the feelings we've known he's had since the series premiere. I have to give George a lot of credit for taking the hard way out, and not entering in to a wedding with Lemon when he wasn't fully sure.
But let's be honest, did anyone actually think George was going to go through with the ceremony? It seemed like just about everything was out to get him and make sure the wedding didn't happen. It was raining, the roof was leaking and breaking apart, the firehouse dog ate the cake. Couple that with the doubts George has been having prior, and it was a blessing the wedding made it that far at all.
While we're being honest I don't think George (nor I) expected Lemon would punch him in the face for calling off the wedding. There was bound bound to be some bruised egos, but faces? That's a new one.
Speaking of lips, after denying the chemistry they've had all season, Wade and Zoe finally decided to take things where they may go. And, boy, did they have a go at it, and it all culminated with George at Zoe's door professing his love for her with Wade none the wiser.
Might I suggest Hart of Dixie use drama a little more often? I'll all for comfort television, but this is the first night I've truly felt connected to the show and couldn't wait to see where things were heading. It was absolutely fantastic.
No matter how things are resolved and where they go, it's going to be a very fun second season.
Other thoughts:
With the big commotion George has caused, it won't take long before Brick gets wind of things, and I can only imagine how he'll take it out on Zoe.
The practice took a bit of a backseat in the second half of the season (as did the medical aspect of the show), and I would love to see some of that work its way back into the story.
Can we have adorable baby goats on this show all the time?
I'm hoping Wade's bar becomes more than an idea next season.
What did you think, Dixie fans?