"Ua Hopa:" Caught.
Following his time off, Alex O'Loughlin made a spectacular return to Hawaii Five-0 this week, looking healthier than he has in months. Steve was able to catch Wo Fat in Japan and got him back into U.S. territories before all Hell broke loose and he ended up crashing the plane they were on.
Did anyone else cheer when Steve beat Wo Fat in the hand-to-hand fight? After watching Wo Fat get the better of Joe earlier this season, I was thrilled to see Steve come out on top with a T.K.O. Of cours,e that was only the beginning of his problems, given that the Yakuza seemed to want them both dead.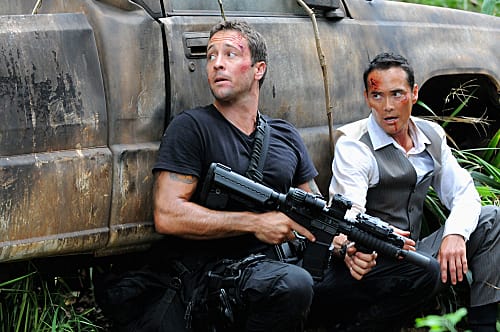 Was your guess correct? After a week of debating who we saw Kono climb into the shower with in the preview, the answer was provided for us very quickly in the episode in the form of... Adam Noshimuri! While I'm sure it upset some fans, it also excited many of us as it may allow for Ian Anthony Dale to make regular appearances on the show.
I say "may" because I'm not sure if Kono and Adam's relationship is strong enough yet to survive him kidnapping her or the subsequent rebuttal of her preventing him from killing Wo Fat and Steve. This reviewer is pulling for them, though! Adam has the potential to be a very interesting character as he works to change his family's business over to a legal and legitimate empire. I suspect his choice to slide back into torture, murder and kidnapping may put a damper on that process.
But, as the poets say, the love a good woman can move mountains.
I was a little confused regarding exactly what Adam told his men. He had the house ready for torture and killing, yet his men opened fire on Steve and Wo Fat like they were told to kill them. Were they just trying to kill Steve and were going to capture Wo Fat? 
Either way, the showdown at the airport took some unexpected twist, my favorite being Kono saving Adam's life when his "lawyer" went to shoot him. As I said, the love of a good woman... Kono is definitely a good woman. 
I'm curious where things go for Danny and the CIA. I can't imagine it will sit well with the government that the CIA field office took a police officer prisoner (hostage?). And, I'm sure the Governor is going to hear all about how the CIA tried to let the Yakuza kill Steve. 
Finally, we ended with Wo Fat in prison. Do you think we are done with him? I can tell you that I certainly hope not. Mark Dacascos makes such a great bad guy, I would hate for this to be the end of the Wo Fat legacy. Besides, we still don't know who or what Shelburne is!  
Next week is the season finale and looks to be tense ending to sophomore season of Hawaii Five-0! Are there any storylines you hope they wrap up this season? 
Jim G. is a TV Fanatic Staff Writer. Follow him on Twitter.