The final night of competition on the second season of The Voice featured a variety of performances that mostly impressed, which will make things difficult for America over the course of the night. The champion will be crowned Tuesday, but for now, let's try not to take any cheap shots like Christina when we look back at what went down in the finale.
---------------------
Jermaine Paul - Solo - "I Believe I Can Fly"
Throughout this season he has made some of the most clichéd and passé song choice of all time, and this wasn't any different. Everyone is going to have their own reasons for who they think deserves to win The Voice, but for me, that performance was the exact reason Jermaine should not be the champion. He hit a really long note in the middle, and he did the R. Kelly thing near the end where he went up, and down, and up, and down, but the whole thing was way too lounge-esque.  He has a great voice, and he probably does extremely well as a backup singer, but I'm sure he will continue to do so after the show ends.
Grade: C+
Juliet Simms - Tribute - "Crazy"
This was a nice tribute to her Coach. It's tough to compete with Cee Lo when she was sick, and even normally she wouldn't be able to hit some of the notes that he does, but this was pleasant enough to get by.
Grade: B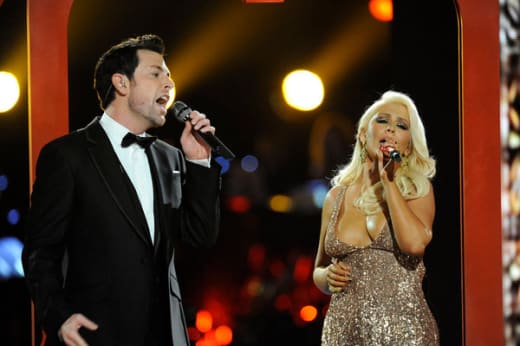 Chris and Christina belted "The Prayer."
Chris Mann and Christina Aguilera - Duet - "The Prayer"
That was pretty fantastic.  The beginning was unreal as coach and student went back and forth. My only issue was that she was overpowering him a bit during the harmonies. I was glad, however, to see that she only went into an Xtina run one time.
Grade: A
Tony Lucca - Solo - "99 Problems"
I love the creativity, I love the boldness, but geez I still question this as his final solo. Call it rebellious, call it out of the box, but choosing a song in which you have to sensor yourself more than 10 times in a performance just seemed dumb to me. I was put off by the whole thing because of that. Tony is still incredibly cool, and after going back and listening to the original rap version, the arrangement of the performance is truly something to be commended. The idea of this selection made a whole lot more sense than Jermaine's solo, but it also wasn't worthy of winning The Voice.
Grade: B-
Chris Mann - Tribute - "The Voice Within"
Were these two a perfect pair or what? Because Christina was his coach, there were a number a great choices Chris could have made for this tribute. His big opera voice meshed well with her huge pop song, and it was a nice moment.
Grade: B+
Juliet Simms and Cee Lo Green - Duet - "Born to Be Wild"
She had some health issues going on, so that could be their excuse, but after this performance I'm wondering if The Voice tampered with the levels on these microphones on purpose. I could not hear Juliet at all when they sang together. Her chances to win this thing weren't helped at all by this boring song choice.  Yeah they were rocking out, but it wasn't interesting in the least bit.
Grade: B-
Tony Lucca and Adam Levine - Duet - "Yesterday"
Maybe it's because that is one of the best songs of all time, but I absolutely loved that performance.  It was subtle, yet it was beautiful. Their voices meshed well together, I could hear both of them perfectly, and Tony's guitar playing put it over the top.  Very well done.
Grade: A
Tony and Adam murdered that record!
Jermaine Paul - Tribute - "God Gave Me You"
Wow.  I am almost ready to take back every negative thing I said about Jermaine in my analysis of his solo performance. That was by far superior to anything he has done in a while, and I now wouldn't be upset if he won the whole thing based on his take on this Blake song. His performance didn't feel forced at all.  He was comfortable, which led to great moments, including the supreme high note near the end. Jermaine Paul may have won me over a bit with that.
Grade: A
Chris Mann - Solo - "You Raise Me Up"
I got emotional.  I'm not afraid to say it. You know what would have had me crying buckets of tears like Christina, though? Not seeing the interpreter doing sign language right in the middle of the screen for half of the performance. I'm not ignorant. I understand people watching in the crowd can use that, but when you're only glancing over to that person from time to time with the camera, it's not doing any good for those watching at home. After having said all of that, this was still a very good performance.  
However, I still don't know how well Chris can get by in today's music scene. Some can take this platform of The Voice, or American Idol, and translate that to bigger and better things. I'm not sure that will happen for Chris. You just aren't going to have many songs in the Top 40 singing opera.  That doesn't mean he can't or won't win The Voice, because he certainly can, and he might.
Grade: A-
Jermaine Paul and Blake Shelton - Duet - "Soul Man"
It took singing on stage with the goofiest man in country music to do it, but Jermaine Paul finally showed some personality in this duet. He also showed some range and originality, which just added to what I loved about his tribute song. Jermaine ended the show much better than he began it, which could bode well for him come results time.
Grade: B+
Tony Lucca - Tribute - "Harder to Breathe"
This was good, but I mostly enjoyed his inability to get through it without laughing. I'm not sure if he was struggling with the lyrics, or if Adam was just making funny faces at him, but Tony didn't seem like he was putting everything into this performance. That's the interesting thing about these tributes, the contestants are so relaxed with them, and that does different things for different performers.
Grade: B
Juliet Simms - Solo - "Freebird"
Yes, her first two performances were sub-par at best, but this last outing was tremendous. She came back from needing Cee Lo's save to make it to the finals, she battled through sickness on finale night, and as the unofficial President of the Juliet Simms Fan Club, I would be remiss if I didn't pledge my vote for this girl to win the whole thing. She did some fantastic things with "Freebird," and while it wasn't as good as "Roxeanne" or "Man's World," this might have been my favorite single performance of the finale. Again, I understand that I am biased, because Juliet has been my favorite all along, but I think she might have just saved herself with this performance.
Grade: A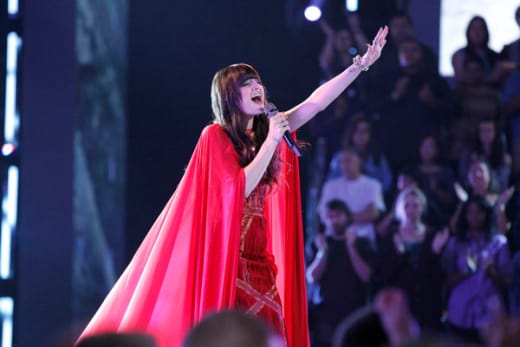 Juliet channeled her inner Skynyrd...or is it Inyrd Skynyrd?
So there you have it fans!  It's time to vote. I came in thinking that I whole heartedly wanted Juliet to win, and Jermaine to come in fourth, but after a fantastic finale, I wouldn't be all that upset if any of the four went home victorious.
What did you think of Monday night's performances? Which was your favorite solo, duet, and tribute? And who deserves to be crowned the winner of the second season of The Voice?
Dan Forcella is a TV Fanatic Staff Writer. Follow him on Twitter.