Let's just get this right out in the open. I had absolutely no intention of watching the Pilot of Bunheads, let alone enjoying it. If I hadn't been called in at the last minute for a review, I would be in the dark about this incredibly witty and touching new show on ABC Family. 
I don't know what I was expecting, but given the pedigree of Amy Sherman-Palladino and star Kelly Bishop it would seem that I would want to watch this show. I think it was the part about ballerinas that did me in. Never in my life did I picture myself as a ballerina. If the show was about klutzes, I would have felt more comfortable.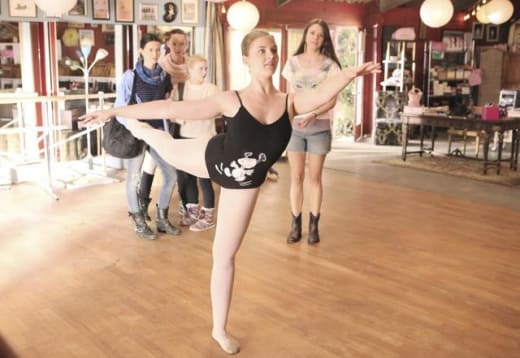 Within five minutes Bunheads had me. The dialog was perfect. If all goes well, it will be a go-to show for Bunheads quotes that make you smile. Michelle whips out those lines much like Lorelei Gilmore did in Gilmore Girls, and makes me wish Ms. Sherman-Palladino was walking behind me, whispering witty repartee into my ear so I could sound as cool as she writes. 
The protagonist, Michelle, having worked her way through the various mediums of dance finally gave into a man, Hubbell, who promised her the world. The small-town world of Paradise, California. After years of unsuccessfully wooing her, he caught her at her lowest point, and in a drunken moment of either despair or optimism, she married him and fled Las Vegas for a new life. 
Only when they arrived did we understand his love of her, as his mother, Fanny, was a dancer. He obviously saw in Michelle something he had once seen in his mother. Although they went through the obvious jealousy and somewhat clueless disgust for each other, by the end of the episode there was a mutual understanding between Fanny and Michelle. They both had been given the gifts and tools to be successful dancers, but life got in the way. For Fanny it was pregnancy, for Michelle a lack of focus. They found common ground.
It was a nice change that Michelle didn't pretend to love Hubbell, but wished so much that she could be the type of woman who could. She's cynical and a realist, and yet deep inside she had the dream every girl has, that maybe someone might understand her after all. Hubbell's speech to her on the night of their wedding party was so romantic. He tells her she wants to laugh, and travel and be surprised and challenged while living an unexpected life. What woman wouldn't want to hear that? It worked; her heart melted just a little.
We were introduced to four of the bunheads themselves; two standouts. Sasha, with all the talent and the perfect body for ballet but none of the attitude, and Bettina, aka Boo, who has all the attitude and wants it more than anything but has a hulky build and the fear that it will keep her from her goal. Their differences became apparent when Michelle gave them an impromptu introduction to the audition process. It was so fun to watch, and Fanny agreed. That's where you saw her heart melt a little for Michelle.
Picture Lorelei Gilmore as a dancer and that she and Emily would actually be seen doing shots at a bar and dancing together to Jim Croce. Yep, Emily Gilmore has come a long way. We'll find out just how far she's come next week when we discover what happened to Hubbell, but I don't have a good feeling.
A couple things will be needed to complete the full ABC Family experience for Bunheads. First up, cute boys. With all these young dancers running around, some hot young boys can't be far behind, right? As exciting as it will be to watch them compete for positions in recitals and for scholarships, it's not ABC Family if there isn't some competition by the girls for the male variety. Michelle is also going to need a best friend. Crazy as she was in the premiere, could Truly get over her loss of Hubbell, get her head out of her arse and recognize the wonder that is Michelle? The casting of Stacy Oristano from Friday Night Lights leads me to believe in the possibility. 
The chemistry between Tony-winning actress Sutton Foster as Michelle and Kelly Bishop as Fanny sizzles. For those of us who have missed GG, we may have a good step-child in Bunheads. What did you think? Are you willing to give it a chance and see where it goes? From an absolute "I won't watch" to finding permanent place on my schedule, you can be sure I'll be there!
Carissa Pavlica is the managing editor and a staff writer and critic for TV Fanatic. She's a member of the Critic's Choice Association, enjoys mentoring writers, conversing with cats, and passionately discussing the nuances of television and film with anyone who will listen. Follow her on Twitter and email her here at TV Fanatic.