With nominations for the 2012 Emmy Awards scheduled to be announced by Nick Offerman and Kerry Washington on July 19, staff writer Dan Forcella is here to give you a quick overview of each category, his predictions for the 2012 nominations, and his Emmy Wish Lists for who ought to be on the ballot.
Other categories we've covered, predicted and forecasted so far:: Lead Actor Comedy, Lead Actress Comedy, Supporting Actor Comedy, Supporting Actress Comedy and Comedy Series...
-------------------------------------------
It's time to get serious. That's right, it's the Outstanding Lead Actor in a Drama Series race.  Chock full of possible nominees, all five of last year's runners-up return to the field. None of them are the favorite, though, as three-time winner Bryan Cranston is back in action after a season of no new episodes in 2011.
Although he's never lost for a season of Breaking Bad, Cranston will face plenty of competition from Kelsey Grammer, who has won four Emmys over on the comedy side of things.
Prediction
Steve Buscemi - Boardwalk Empire
Bryan Cranston - Breaking Bad
Kelsey Grammer - Boss
Jon Hamm - Mad Men
Dustin Hoffman - Luck
Damian Lewis - Homeland
Jon Hamm and Steve Buscemi should return to the field as members of two of the Academy's favorite series, and I predict Damian Lewis and Dustin Hoffman to round out the field. That means that Michael C. Hall, Hugh Laurie and Timothy Olyphant are in serious trouble of not making the cut. Laurie was the most difficult to leave out, since House just aired its final season, but there are just too many quality performers in the category.
Emmy Wish List
Bryan Cranston - Breaking Bad
It's a tough question with this group of actors, but is there anyone you are scared of more than Walter White? Cranston continued his award-winning performance of the high school teacher turned drug dealer with maybe the best season to date.
Kelsey Grammer - Boss
I wasn't the biggest fan of Boss, but I WAS a huge fan of Grammer's performance. It is always so fascinating to see someone widely known for their comedic work do such a fantastic job on the dramatic side of things. Grammer's Tom Kane was a perfect combination of depressed and angry.
Jon Hamm - Mad Men
If he didn't win last year for "The Suitcase," he's probably never going to win. It's one of those always the bridesmaid sort of things, but his ongoing effort makes him one of my favorites to watch week in and week out.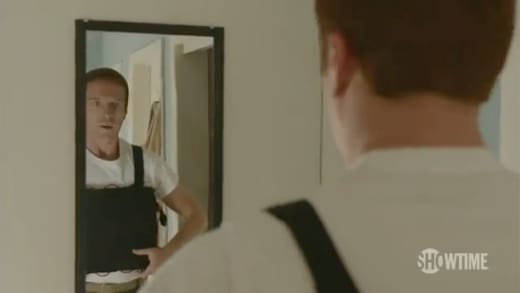 Damian Lewis - Homeland
Homeland quickly became the new favorite of so many viewers and critics alike, and Lewis' portrayal of prisoner of war Nick Brody had a lot to do with it.  His performance was so nuanced that he had us all guessing which way and another about Brody's motives.
Timothy Olyphant - Justified
Attempting to leave my man-crush out of it, I will just say that Olyphant is exactly what keeps bringing people back to Justified. The writing is great, and the other actors are brilliant, but Olyphant is just so charming as Raylan Givens that there is no turning away when he's on screen.
Ray Romano - Men of a Certain Age
Not many episodes aired, but Romano deserves credit once again for his tremendous performance on this now cancelled series.  Like Grammer, he made the switch from comedy to drama seem effortless. Unlike the Boss star, however, Romano blended his awkward comedy into his performance, creating a really fun character to watch.
Now it's your turn TV Fanatics!  Who would make your Emmy Wish List for Outstanding Lead Actor in a Drama Series?
Dan Forcella is a TV Fanatic Staff Writer. Follow him on Twitter.