There were attempts at laying down the law on True Blood this week.
There was also a lot more order on Authority Always Wins," as Christopher Meloni made his debut as Roman and my new favorite duo bargained for their lives on an episode that was a bit more focused than last Sunday's disjointed premiere.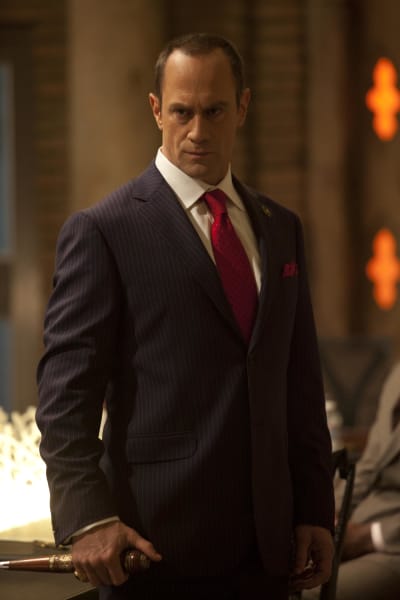 At this point, we just need to accept the ever-increasing number of characters and storylines on True Blood, possibly turning Terry's time on screen into a drinking game (a shot every time he raises his voice?) in order to keep our attention.
But at least this episode dialed in on Bill and Eric, foes-turned-friends, and by far the most interesting aspect of the very early season so far.
Just consider how far these two have come! They've gone from plotting one another's demise to staying strong in the face of Authority intimidation. Neither fell for the oldest trick in the police officer book, telling one suspect the other ratted him out. They simply remained calm and answered questions honestly, vein-coarsing silver be damned.
Then again, they had nothing to lie about, which was my main question while watching the interrogation scenes and later when Meloni's Roman quizzed the duo on the Sanguinistas.
Why would the Authority possibly believe Bill and Eric were part of that movement? Is the Authority not watching at all times? Is this ruling body somehow unaware that Bill and Eric are the last vampires to ever view humans as a mere food source, considering their shared love for one of them?
Okay, Sookie is a faery, not a human. But you get the idea. I would certainly assume the Authority has eyes everywhere - it didn't take it long to track down Nora and the boys during their escape - and it seems like a stretch to think it would suspect Bill and Eric to be anywhere but on its side when it comes to harmony between people and vampires.
As for Meloni, I've never seen Law & Order: SVU (though I could simply turn on USA right now and catch up I'm sure). But the actor clearly has a strong screen presence and is instantly more mesmerizing to watch than just about anyone else on the show. His character appears to be everything you would expect or want in a leader: Decisive, well-spoken, aware of a cause beyond his own emotion, respectful of his colleagues.
But why would he free Bill and Eric to track down Russell Edgington? Does the Authority not have its own security team of some kind? Why would it entrust this key mission to a pair of vampires it doesn't exactly trust? And how did Russell grow to be such a disruptive force in the first place?
There's a lot to learn about the Authority, starting with the breadth of its powers and its reach, but I'm just glad it will be a major focus of Season 5.
Elsewhere...
Emma is a werewolf. Talk about a scene that was both adorable and disturbing! But I actually see potential here, as Sam constantly coming to the rescue of his girlfriend and her daughter wasn't exactly thrilling. But trying to navigate the complicated waters of a five-year-old-turned-werewolf is at least an original concept.
Arlene is very concerned about Terry. Me too. I'm afraid he's gonna continue to waste valuable minutes of my life on screen.
Tara is angry, crazy and really, really fast. She's also now off on her own. Not a lot to say about very little movement with this storyline, but I can only hope we get a lot more interaction between this new vampire and her hilarious Maker.
Jessica remains incredibly hot.
Pam as a Maker? The history of Pam and Eric? Give me more!
The final shot of Russell was certainly an intriguing conclusion. Most of this episode simply served to set up future arcs and feuds, with this king's return, the question of who is feeding him and the role he'll play between Eric, Bill and the Authority by far the most gripping aspect of True Blood at the moment.
It combines politics with religion with grotesque shots of a recovering, shriveled up Denis O'Hare. Really, what more could you ask for?
Matt Richenthal is the Editor in Chief of TV Fanatic. Follow him on Twitter and on Google+.