I have now watched "Letting Go" four times, and it never stops being hilarious. Where last week's preview episode gave viewers the strange but brilliant side of Wilfred, this season premiere was just flat out funny.
Repeatability is key for comedies, not so much in ratings, but when I'm thinking of the funniest series of all time, the ones I will remember are those that were watched over and over again. If Wilfred can continue to produce the redundancy it achieved with "Letting Go," it could become an all-time great show.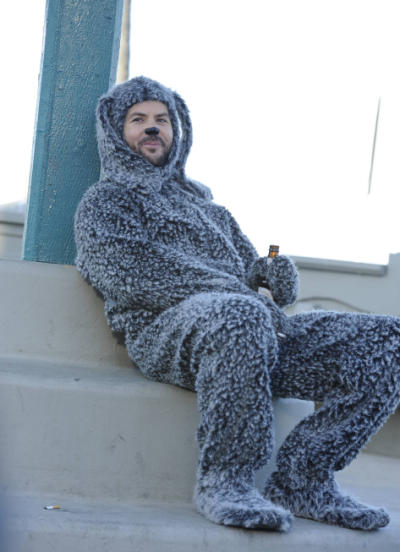 Jason Gann knocked it out of the park again, this time turning Wilfred into a little brother type of character, whose sole purpose in life (at least for this 21 minutes) was to make Drewwwwish Community Center proud of him.
Every aspect of Drew's personality that Wilfred replicated was done with such perfection by Gann that it was hard not to crack up every time the dog hit the screen. The nicknames were fantastic - my favorite being the community center bit because of Wilfred's enthusiasm about it - but it was him turning into a complete bro that made the episode.
If you don't understand what I mean by a complete bro, think of a lacrosse player at Georgetown. Whether it was his newfound love for the Packers, thinking "catch is the shit," or taking his workouts so seriously that he worked his schedule into the explanation of what he did in Wisconsin, Wilfred's emulation of Drew made for one of the best episodes of the series to date.
It all culminated in an absolutely banner of a scene on the beach. Everything Wilfred did during that jog had me in stitches: wearing the Packers tank, asking if Ryan had ever heard of seven minute miles, explaining that he only calls himself Dr. Wilfred when he's dj-ing. It was his analysis of the "two guys" that took the cake, though. Everything out of his mouth was hilarious, because as we could all see, one of the "guys" was a dog.
While all the bro-isms made us laugh, it was his true infatuation with Drew, and inevitable let down, that made us sad. Wilfred just wanted to be loved. Drew saying he'd never be a champion, and every time Wilfred then thought he was letting his new pal down, made me really feel for the "guy."
Whether he is a figment of Ryan's imagination or not, as a viewer I can't help but get attached to the character of Wilfred. He's crass, he's mean, but at the end of the day Gann makes the dog loveable, and that's a joy to watch every Thursday night.
Other great moments from "Letting Go."
Ry-an woman, hear me roar.
Wilfred not understanding why he won't give up the tennis ball.
Memory is like the Packers when they're down by two touchdowns in the fourth quarter.
Amanda's long monologue about why she's a catch.
Wilfred studying his film.  
Maximum core rippage. Is there any other kind of rippage acceptable?
There were a multitude of hilarious quotes by Wilfred and the rest of the crew in this week's episode. Check them all out in our Wilfred quotes section. Then come back here and let us know what you thought of the actual Wilfred Season 2 premiere in the comments. Finally, be sure to follow @WilfredTVF on Twitter.
Dan Forcella is a TV Fanatic Staff Writer. Follow him on Twitter.