"Movie Truck" was a stagnant episode of Bunheads. Nothing really happened that we hadn't already explored, with the exception of Michelle's acceptance of Truly. We can finally see a crack in the door to the possibility of their friendship. Otherwise, not my favorite. 
Fanny took off on a vacation in what appeared to be an attempt to push Michelle into a leadership role at the school. There was even a newly installed stripper pole and the threat of housewives taking classes, but on the adult side, it was all dropped early on for Michelle's birthday, Talia's visit and Truly's induction into Michelle's world.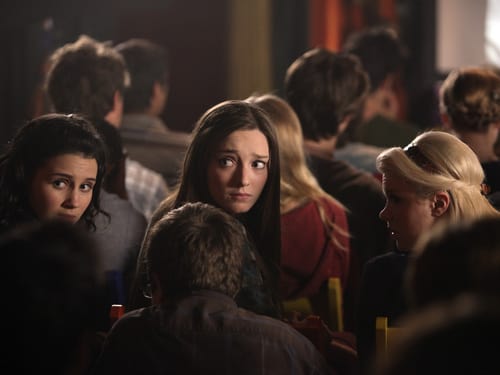 The remainder of the episode was devoted to the young bunheads, and they still don't rule the roost. Their characters did, however, experience the most forward movement, so let's check it out.
Jamming Sasha's crappy family situation down our throats is getting incredibly old. They've taken it too far. I don't feel sorry for in the least. For a few minutes I did, then I didn't, then I did, and this episode sealed it. I just don't. That said, the girl can dance!
Ginny's boyfriend Josh brought them girl bags. I got the feeling he might like a Gerry more than a Ginny. While there's nothing wrong with that for him, it's not the best thing for Ginny, who is sure to be let down hard if that turns out to be the case. 
The Movie Truck scene and switching seats was so boring. It was a throwaway scene at best. Nothing of merit came of it. 
I was left wondering how it was that the only girl in Paradise that gets lucky is Boo. You know I love Boo. Even given that crushage, I couldn't buy Charlie picking Movie Truck night and those eyebrows as the time to make a connection. Was there some lesson to be learned? If you're happy go lucky and have a normal body weight you can get the guy even with a brow disaster the likes of which hadn't seen the light of day since a Carol Burnett sketch? Nope. Even worse. Charlie was going to use Boo to get another girl's number while she had no idea what was happening. 
Looking at her with those brows, as Charlie looked at another girl... it was stomach churning. It turned out I would have preferred to have the Paradise odd-duck-gets-the-guy version.
The most fun I had during the hour was trying to catch the Pop Culture references! As usual, I was not disappointed. Just check out this list. Note that the first ten or so came before the credits rolled!!
Wifey and Are You There God, It's Me, Margaret by Judy Blume
Fifty Shades of Grey (groan)
Sizzler!
Shaun Cassidy and his dad, Jack Cassidy
Eisenhower era
Brangelina and all her children
Fergie and the Jay Leno show
Tom Jones: Delilah, What's New Pussycat
Comic-Con, Princess Leia costume contest
Sneaking onto a plane with Bon Jovi
Kissing George Clooney
Charlies Angels 
Hanna Barbera
Jonathan Adler
Dita Von Tease and Kat Von D
Neo from Matrix
Fully stocked Pez
DVDs of Grease
Revenge of the Nerds
Rock the Casbah by The Clash
The Hobbit
While it wasn't the most stimulating or emotionally challenging hour of Bunheads, as always, it was damned entertaining. This proves that even at its worst, I want to watch and just enjoy what's on the screen. It's obvious that every second of the show is made with love and respect for our time, and that's something that will always bring me back!
Carissa Pavlica is the managing editor and a staff writer and critic for TV Fanatic. She's a member of the Critic's Choice Association, enjoys mentoring writers, conversing with cats, and passionately discussing the nuances of television and film with anyone who will listen. Follow her on Twitter and email her here at TV Fanatic.