"What's Your Damage, Heather?" sealed the notion that without Fanny some of the magic of Bunheads is missing. I found myself looking at the clock, expecting the show to be about over, only to find it was at the 25-minute mark. What?!? Talk about a dire situation. 
It seems we've settled into a routine that involves Michelle, the four bunheads and Truly. My assumption would be that Fanny's return will enmesh her with the group again. But have we lost the more adult-oriented program in exchange for a true mix of the ages?
While I don't think I'd mind that in the long run, if tonight's episode is any indication, the show has some kinks to work out. Story wise, the two sets of characters haven't found their groove in sharing screen time.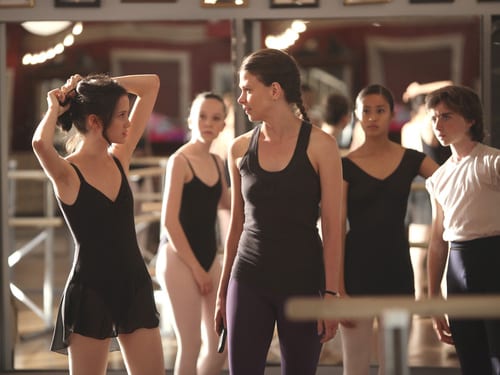 As Sasha proved, they aren't friends. Michelle can't treat them as such because she'll be taken advantage of and lose herself in the process. The barrier between her and the girls became very apparent when Ginny's mother attacked Michelle because Ginny broke up with Josh. First, a girl of 16 dating a boy since the second grade is beyond weird. Claire coming in and making the breakup about her, worried that their trash won't be taken out or the windows fixed, felt like a Hitchcock movie waiting to happen.
As if things couldn't get worse, Ginny was single for 12 hours and Boo's Charlie, otherwise known as Melanie's stinky brother, asked Boo to talk him up to Ginny. 
Was it just me, or were the bunheads going through Michelle's house and essentially trashing the place out of character? If they hadn't been given permission to dress in there, maybe I could have bought it, but they were tossing her things all over the place and there was no hiding who did it. They aren't stupid girls, nor had they seemed prone to such behavior having been so long under Fanny's tutelage. 
The last two episodes haven't been stellar. Bunheads started out so strong that it's a bit startling at how quickly it's fallen out of my favor. It's not that I'm going to tune out, but I'm not as excited to tune in. The fast paced dialog that so many others disliked has lost its edge, and it was my favorite part by far. Through anything, the wit that flew out of Michelle's and Fanny's lips kept me exhilarated. She's trying, but Sutton Foster can't hold it on her own.
To round things out, here's a look at this weeks pop culture references. I fear in my boredom I most likely missed quite a few. Can you post what I missed in the Comments?
Les Mis
Facebook
Anna Farris
Twitter
Driving Miss Daisy
"No Exit," Jean-Paul Sartre
Refrigerator Perry
Gremlins
Yelp
Siegfried and Roy
Winona Ryder
Heathers
Carissa Pavlica is the managing editor and a staff writer and critic for TV Fanatic. She's a member of the Critic's Choice Association, enjoys mentoring writers, conversing with cats, and passionately discussing the nuances of television and film with anyone who will listen. Follow her on Twitter and email her here at TV Fanatic.