Let me quickly answer the question posed in the headline above: Everywhere.
Our bags are packed, our brains are already fried and our video camera batteries are charged.
Yes, readers, multiple TV Fanatic staff writers are about to descend on San Diego for Comic-Con 2012, an event that promises to deliver never-ending scoops and spoilers related to your favorite TV shows.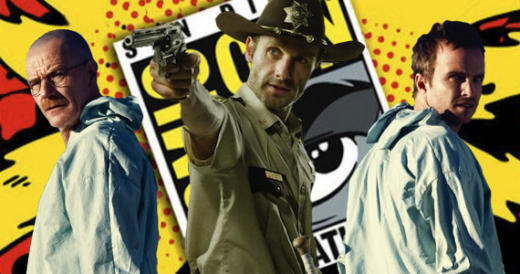 We'll be on the red carpet of the Breaking Bad Season 5 premiere screening.
We'll be chatting with Ian Somerhalder, Paul Wesley, Nina Dobrev and many other Vampire Diaries cast members.
We'll be previewing new shows such as Cult, 666 Park Avenue and The Following along with the stars of those upcoming dramas.
We'll be trying to keep a straight face while seated across from Joel McHale.
Got a question you want asked of... pretty much any actor or actresss? Leave it in the Comments section below. Want to keep up to date on all the Comic-Con happenings? Follow @TVFanatic and @MattRichenthal on Twitter.
Strap in, set us as a bookmark and prepare to hit refresh often, TV Fanatics. It's gonna be a wild week.