Good news: Bo and Ryan are still hooking up. Bad news: they are still hooking up. At least for Kenzi and her boyfriend, Nate.
In "Table for Fae," Lauren and Nadia were still out and about, but Kenzi finally returned... although, due to her and Bo's romantic entanglements, their relationship went from laughs and banter to somewhat estranged.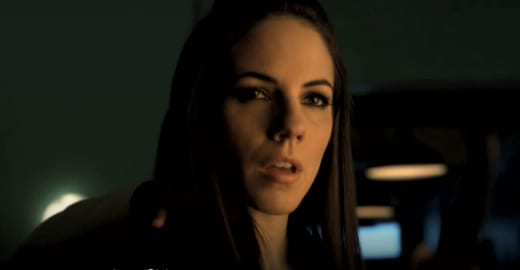 The double date was awkward right from the beginning. The hostess eying Bo was creepy, though that did have a happy ending. And, then Ryan taking control and ordering funky food for them to eat. Did you catch the Fae slip about the 1940s bottle of wine? Nate seemed confused, but never made an issue of it at least.
Ryan did try to make it right with his seemingly heartfelt apology, but then he got The Morrigan involved. Bad move, man. The Morrigan offered Nate his dream of a music contract, but Kenzi couldn't let him go through with it.
Kenzi's deal with The Morrigan is a scary one. She must really love Nate to agree to give The Morrigan a favor. That's more dangerous than the Nate's recording deal ever would have been. Didn't Kenzi learn anything from Dyson's deal with the Norn? Deals like that in the Fae world never end well.
That simple double date led to doom for both of the girl's relationships. Will Nate be able to over come the rejection and stay with Kenzi? I doubt it. It will be too much for him to handle. Kenzi would have lost him anyway if he signed with The Morrigan, but at least she won't feel any guilt about his future.
And, Kenzi's rejection of Ryan for being Dark Fae was not as detrimental to Bo's relationship with Ryan, but in the long run Bo will make the decision to let him go. He may be fun for now and bring her a beautiful hostess as a gift, but ultimately Bo will choose Kenzi over Ryan. He was cute while it lasted.
The introduction of Ryan has been important for Bo's understanding of the Fae world. He was honest with her about the Dark and Light Fae. While she may be unaligned officially, she definitely has a loyalty to the Light Fae over the Dark. She sees the Dark as the more inhumane side, will Ryan's comment about The Ash imprisoning Lauren change her feelings about the sides? Even though Bo didn't indicate that she was surprised by that reveal, she is sure to follow up on it.
She will work to bring down the Garuda with The Ash and Trick, but after that, will she remain unaligned? Or, will she pick a side?

Odds and Ends
The Fae problem of the week didn't provide any insight into the bigger problem happening in the Fae world. It did though bring up the differences in moral code between Bo and Ryan.
Bo's determination that the human victims be rejuvenated first showed her compassionate side. Not one that Ryan shares.
Dyson. Poor Dyson. He is still suffering from his deal with the Norn. I don't like this angst-filled Dyson. He isn't any fun at all.
Hale has become Dyson's punching bag. I miss the Hale-Kenzi interactions.
I know there are a lot of Lauren-Bo fans out there that have seen all of season 2. I can't wait to see what has you on Team Doccubus, but I haven't missed her at all while she's been off with Nadia. (No spoilers in the comments, please.)
Carla Day is a staff writer for TV Fanatic. Follow her on Twitter and on Google+.