Political Animals Review: Series Premiere

Carla Day at .
With Political Animals, USA Network has taken a stark departure from the "blue skies" shows for which it's typically known. It is not only a not-make-you-smile show, but it contains adult language and situations.
If you haven't watched the pilot yet, check out Leigh's spoiler-free Political Animals preview. If you have, read on for my take on the gripping opener...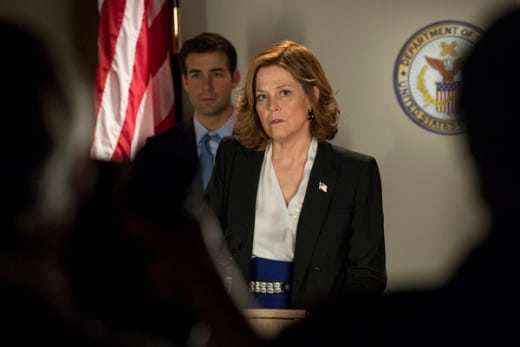 While the premise and characters are clearly based on the Clintons, after the time jump the similarities become less pronounced. The characters quickly stand on their own. With the exception of former President Bud Hammond(Ciaran Hinds), the differences were creatively an improvement.
From my first view of the show's trailer to this episode, I didn't buy Hinds in this role. He played the potty-mouthed, selfish, power-driven aspects perfectly, but he lacked the charisma that the character supposedly possessed. By the end, I wondered if it wasn't a charming charisma, but rather through manipulation that he was able to get all the ladies.
Why did Elaine fall for him and then stick around all those years? The answer to that question was unexpectedly - but brilliantly - explained through journalist Susan Berg's own relationship woes. The relationship between Elaine and Susan is the one I'm most intrigued to watch. They are both powerful, successful and misunderstood women. Their connection had a rocky start years prior, compounded by TJ's suicide attempt getting out, yet they could become the ally each other needs.
The clearest lesson from the premiere is that being the president isn't without sacrifice and being the family of the president is even more difficult. Elaine struggled to justify her life choices while trying to get out of her husband's shadow. And their children, the perfect Douglas and the troubled TJ, each have their issues as well. I hope in the coming episodes that their brotherly bond will help them each through their struggles.
Douglas is the favorite son, who can seemingly do almost no wrong. (Don't speak out against the president.) He is the rock for his brother, TJ, who was the first openly gay first child. While his sexuality doesn't seem to be the reason for his father's contempt, it clearly was a spark that caused the problems. The contrast between Bud's praise for Douglas and his demeaning comments to TJ was painful to watch. No child should be told they are a "joke" or have their suicide attempt ridiculed.
It's no wonder why TJ has problems with drugs. Will Douglas be able to save his brother? Or, is TJ the only one that can save himself?

On the political front, Elaine was sidelined by the president regarding the problems in Iran. Watching this situation unfold, along with the manipulation between countries (and within our own government) was disheartening to watch, especially given the realism. Elaine learned how to move the necessary pieces to attain her goal. Then Bud's play to get involved proved that it is a Hammond family trait.
The episode was jam-packed with characters and storylines. Given that this is a limited series, I'm a little worried that the show has introduced too many components. If they can all be effectively presented and moved forward, this will be a show to watch live each week.

Odds and Ends
MSNBC - Network synergy at work.
The show is trying to push boundaries, but at times it was gratuitous. Did we need to see Douglas and his fiance having sex? It didn't add much to the story, unlike the scene between TJ and the gigolo. And, Bud and the actress? Ugh.
So, Ann has an eating disorder. Not sure this is necessary, but perhaps it will become important.
TJ is amazing on the piano. Is that his ticket to fixing his life?
Elaine and Bud hooking up? Wow. That was unexpected.
Elephants are a matriarchal species? Woman power!
Carla Day is a staff writer for TV Fanatic. Follow her on Twitter and on Google+.