After watching "Crazy For You" I had to wonder how Jane is even remotely sane. The woman has had a serial killer target her on multiple occasions. She was kidnapped and tortured and now she's been abducted by a stalker and chained to a bed.
If I'd gone through a fraction of what this woman has endured, I'm fairly certain I'd be curled up in a ball in the corner of my room sucking my thumb. Can we please give Jane Rizzoli a break?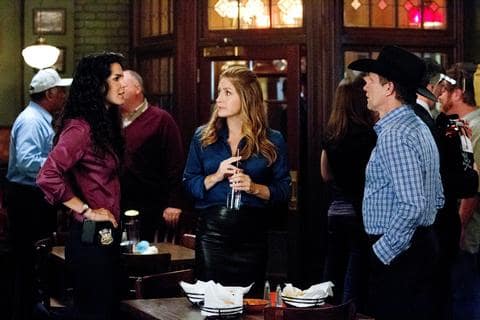 But if I look past the ongoing torture of the good detective, I will admit that I really enjoyed this episode.
The murder of the doctors in the opening scene was brutal. As Jane mentioned in this Rizzoli & Isles quote…
 Dr. Eve got shot just because she had to pee. I mean, that's just wrong. | permalink
Yeah, that's a pretty tough break even for a woman whose fame came from writing books like No Womb For Children and No Need to Breed. No matter how you felt about the subject matter, the titles were catchy.
Dominic was scary and his wall of Jane head shots attached to supposed vacation and wedding photos landed somewhere between comical and really creepy. You know it's a really bad day when you wake up chained to a bed and some psycho says you missed your Brazilian wax.
Jane's panic was palpable as she begged Frost through the camera to come find her. I liked how certain she was that her colleague was watching her through the lens. She knew her team was coming for her. She just had to hang on.
Of course being abducted meant that Jane got out of telling her mother that the woman who hit her car was pregnant with either her ex-husband's or her son's child. Oh, that's a family meeting I'd happily miss.
What about Dr. Pike's confession of love for Maura?!? The Russian doctor was right. A corpse has a better shot with Maura than Pike does.
My only disappointment was that the story of Maura's biological family was completely dropped. Last week's episode left us on such a cliffhanger that it felt very odd not to have it even mentioned. I can only assume that Maura's mother and half sister will be brought back before the end of the season.
At the end of the day Jane can always count on one thing. That after some psycho has made her day a living Hell, Maura will be willing to stay over to make sure her friend can sleep.
What else could you ask from a best friend?
C. Orlando is a TV Fanatic Staff Writer. Follow her on Twitter.