Royal Pains delivered another episode in which anything and everything that could possibly take place within an hour did.
And that combination made "Who's Your Daddy?" another scattered addition to an already questionable season.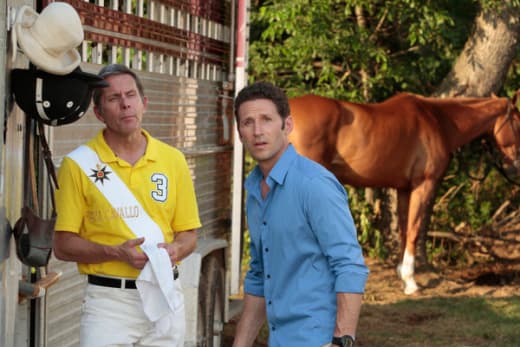 I've made it no secret that I've not been completely sure where this season is trying to go. From the disbandment and reconciliation of HankMed, to Hank's strange position as Boris' personal diplomatic doctor - and now a return to tensions between Evan and Eddie R. - I'm at a loss. Characters are supposed to move forward, not backward.
The way Evan treated his father was completely unacceptable. I don't know what it's been about Evan this season, but he's gotten more and more rude, obnoxious and just plain annoying as time has progressed. Sure, Eddie was acting a little too much like himself by offering his services as an opening act, but it's who he is.
Clearly the General knew about his prison time, so it wasn't like it was a devastating surprise. If he really had an aversion to the incarcerated, the dinner was likely to have not taken place at all. Shame on Evan for jumping to conclusions like that!
I feel like the less sure that the writers are with where they want things to go, the more disjointed their storytelling becomes. We've spent the last few weeks learning more about both doctors Van Dyke and Sacani, only to have neither appear in this episode. Same goes for Boris, who was nowhere to be found. While it likely would have resulted in casting overload given the several guest stars that participated in tonight's episode, the personnel discontinuity is painfully obvious.
Elsewhere, the use of polo felt highly appropriate for the Hamptons, only enhanced by the star player, Rafa, who made all the ladies swoon. He was quite the charmer, trading quick and witty remarks with Divya, and by episode's end, pulling her into quite the passionate lip-lock.
If Divya was fretting over the uncomfortable status of her dating life, I think a hot kiss from a polo player likely resolved those issues quickly!
While Divya's dating life heated up, however, Paige's family life seemed to have fallen apart before her eyes. I didn't see bombshell that dropped in the final minutes about her being adopted coming. Did you?
We all know that Paige's family life hasn't been without turmoil. From her mother's depression to her father's denial of that fact, the Collins as a family clearly have issues. Perhaps we should have seen this news coming after all.
But it provides plenty of fodder fat least. If Paige goes looking for her birth parents, we're in for a storyline the writers might actually care to follow through on!
Do you think Royal Pains has fallen of the horse? Or do you think it's riding high going into next week's mid-season finale?
C. Charles is a TV Fanatic Staff Writer. Follow her on Twitter.