New intel continues to leak out regarding The Walking Dead Season 3.
Yesterday, AMC confirmed the casting of Dallas Roberts, who will come on board this fall as Milton, an original character created for the TV series who plays a key role in The Governor's community of Woodbury.
And speaking of Woodbury...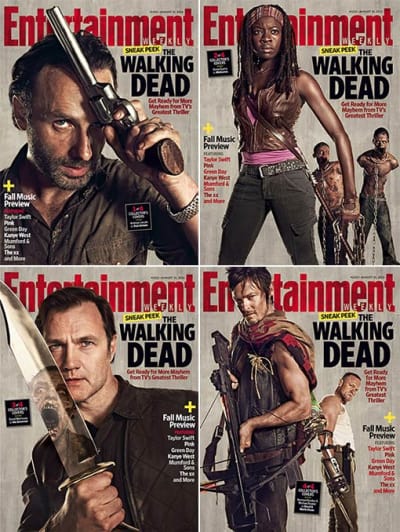 The latest issue of Entertainment Weekly - on newsstands Friday - features a collection of Walking Dead characters on various covers.
It also teases upcoming episodes via an interview with producer Robert Kirkman, who says Rick and company will be spending most of their time at the prison, but will also be forced to interact often with The Governor and his people.
"This season really is about setting up these two worlds and watching them come to a head and collide," says Kirkman. "And you know that there are going to be some pretty explosive encounters between Rick and the Governor. This season is going to be about getting to know these two characters, and then waiting for their eventual confrontation that could destroy everything."
The Walking Dead returns on October 14.
Matt Richenthal is the Editor in Chief of TV Fanatic. Follow him on Twitter and on Google+.