It was as if they knew I had been saying that the past few episodes of Wilfred weren't living up to the all-time great start to the season... because "Honesty" was everything I could ask for and more.
Scene after scene was a classic. From all-out laughs to the more tender moments, and from simple one off gags to long-running plot related events, this was absolutely fantastic television. Honestly.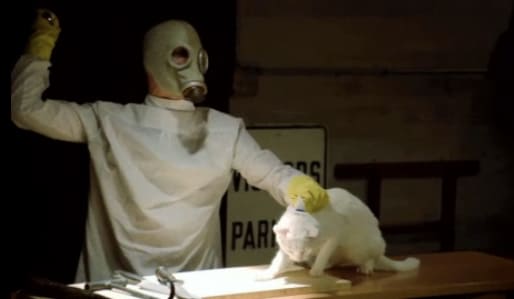 It's always great when Wilfred takes on a new persona. The fact that he took on a pair of them, that were both hilarious in their own right, was a big reason for the success of the episode.
The first was how the man-dog portrayed himself as a rape victim in reference to being scratched by the cat. Jason Gann gave off an air of thoughtfulness as he described seeing the cat for the first time. He then quickly provided us with a flare for the dramatic as Wilfy relived the torturous moments that the cats scratched and clawed at his poor face.
Of course, the victim soon turned sadistic (torturing the cats with string and comments like "who's meowing now bitches?!?!"), and eventually told Ryan "no one cares about cats." We found out much later that he himself cared deeply for the cats, but at the time, he just wanted revenge.
He got it by making a cat-butchering video to send to Jenna's news station. Sure, he never actually used any of the footage shot or edited with Ryan (and the final cut was nearly as funny as the first version...bulls-eye to the mailman), but the route to get there was worth Wilfred throwing it all away in the end.
As soon as I saw the trucker hat on Wilfred's head and the crazy outfit on Ryan, I knew it was going to be a great scene. I never expected it to be that good, though. Wilfy's nit picking was awesome, but his endless rant at Ryan for being a grown up and whatever else he was complaining about was one of the single funniest things I've seen in a while. The longer it went on, the better it got.
After getting Ryan to realize that all of Jenna's problems stemmed from what he did - once again Wilfred helping his boy Ryan out - Wilfy spent the final few moments of the episode spending quality time with the cats.
He loved the cats, which was a pleasant twist, and his defensive attitude about hating them just added to the hilarity of "Honesty."  I was literally just about to kill them, and Did you not just hear me call Mr. Snuggles naughty? had me doubled over.
It was an almost perfect half hour of comedy, and I have yet to even mention what might have been the best use of meta commentary that wasn't on Community. When Wilfred claimed he wanted to fatten the cats up to make a suit out of their fur, and added "Imagine how hilarious I'd look wearing a full-bodied animal suit," I absolutely lost it. It was too good.
There were plenty of other great one off bits during the episode. A couple of my favorites were:
The camera man calling Jenna by her new nicknames, "Squishy T," and simply "Tits."
Wilfred's "I didn't want to bring it up in front of Jenna" like she would have heard him if he did.
What did you all think of "Honesty?" Was it your favorite in a while? Or did it not hit all of the right spots? What was your favorite line from the episode? Check out all the best ones in our Wilfred quotes section and then sound off in the comments.
Dan Forcella is a TV Fanatic Staff Writer. Follow him on Twitter.