Those were only a few of the things we encountered on Doctor Who this week. He had a gang! That's new! Seriously, could a Doctor be any cuter than Matt Smith? I think not. As he was traveling through time picking up his gang, including the Ponds with special guests Brian (Rory's dad) and Nefertiti, among others, he was so excited I wanted him to materialize in my living room.
Please note: I realize if Rory and Amy are married, they should be referred to as the Williams. It's The Doctor who calls them the Ponds and I'm not going to argue the point!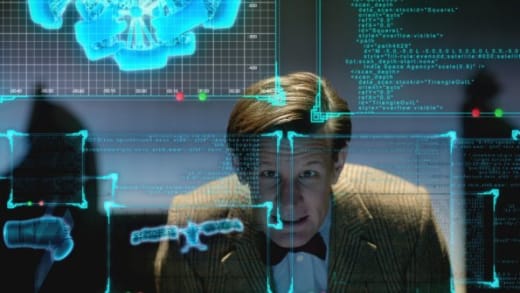 The best addition to the trip, by far, had to be Rory's dad. He had some of the best Doctor Who quotes in the episode. Typical British humor that makes me truly laugh out loud. Check out this beautiful exchange between the boys:
Rory: Did you just have that on you?
Brian: Of course. What sort of a man doesn't have a trowel? Put it on your Christmas list.
Rory: Dad, I'm 31 years old. I don't have a Christmas list anymore.
Doctor Who: I do!! | permalink
I have very little to impose by way of review of this episode. It was just a fun romp and a great time. The robots were awesome. Once they started talking, they were not at all what I expected. Their interchanges with The Doctor and Rory were hilarious. Thankfully, they were not only funny but the most horrible shots in the universe. 
The Doctor playing with the triceratops, who was busily smelling Brian's balls...golf balls you dirty birds...and then licking his face was a treat. How often do we get treated to a dinosaur that isn't hell bent on killing every living creature it comes in contact with? Not very! He also turned out to be quite the transportation device, making an exciting episode even sillier as The Doctor, Rory and Brian rode him through the spaceship.
That same silly, fun triceratops was the subject of a dramatic turn later, when Solomon had his robots shoot him to prove he was willing to take out anything in his path to get what he wanted. Even something as valuable as the dinosaurs he had confiscated the ship to steal. If you know anything about me, you know that scene was difficult for me to watch: the big, watering eyes of the playful triceratops as he lay dying. Observing the missiles attack Solomon's ship was a joyful event.
The biggest revelation of the hour was that Amy felt The Doctor was going off of she and Rory. They both promised they'd be there for each other until the end of one or the other, but we already have the news that just isn't true. It was a bit of foreshadowing that she's getting tired of putting her life on hold to wait for the sound of the TARDIS, especially when the time between The Doctor's visits is growing.
Ten months was long enough of a wait that Amy gave up her job, just as she gave up the one before it, both times using her wait for The Doctor as an excuse not to settle into her life. When Rory and Amy wanted to go home instead of onto the next adventure with The Doctor, the look of sadness on his face was hard to fathom. In the back of my mind, I kept remembering that we had a peek into his future and new companion in last week's premiere and not to despair. 
Much like Rory's dad and his new life of adventure, even when Amy and Rory decide to step aside, we'll continue on with The Doctor and find new thrills along the way.
Carissa Pavlica is the managing editor and a staff writer and critic for TV Fanatic. She's a member of the Critic's Choice Association, enjoys mentoring writers, conversing with cats, and passionately discussing the nuances of television and film with anyone who will listen. Follow her on Twitter and email her here at TV Fanatic.