It's time to put the debate to rest: with "Citizen's Arrest," Major Crimes set itself apart as not only a fantastic drama willing to take risks, but as a completely different animal than its predecessor The Closer.
From the moment we learned about the crime of the week until the last scene of the episode, every aspect of Major Crimes was perfection. Brenda Leigh Johnson could not have handled the case any better than Sharon Raydor, and it's my assessment that the nature of the case needed the likes of Raydor and her willingness to deal with the ugliest dregs of society.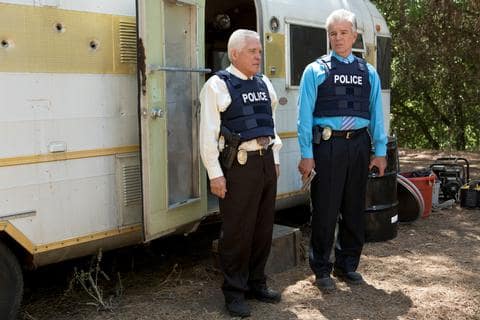 I know my readers, and I can imagine a lot of you might be thinking I've lost my mind. I'm going to write out the points of my argument below, and you can debate me in the comments. This should be good!
When first faced with the idea of losing his ranking managerial position over the major crimes division, Provenza wasn't on board. He was ornery, angry and not afraid to say what he felt about it, even if it was a slight exaggeration. However, Sharon did something that I don't think even Provenza saw coming. She gave him rope. Not to hang himself, but to lead.
Provenza has been leading the team in spirit and in the investigative process since Sharon took over. He's the first person on the scene and Sharon looks to him for what's next. His experience and gut instincts told him the body in the barrel would lead to something bigger, but even he couldn't be prepared for what they encountered next.
When Provenza, Raydor and Flynn knocked on the door of the victim and learned they were in the middle of a live kidnapping, Sharon handled it with authority and common sense. By handing her phone to the wife of the hard-ass husband, she made a connection inside the house and bought some time for them to decide what to do next. It also served as a way to gather information.
That fast, level-headed reaction wasn't lost on Provenza and he didn't hold back when Flynn tried to assert their wrong doing by not alerting the family to the death of their son. They had a daughter who was also missing. Priority number-one then became saving her life. I'm sensing that we may see a sort of bond between Sharon and Provenza like that with Brenda and Gabriel in The Closer.
By gradually earning his respect, Provenza will be an excellent asset to Sharon. She knew coming into the job that it couldn't be done without the team already in place, and she's going to work with them to get the best out of each one.
In the course of this fledgling season, we've learned so much more about Julio Sanchez. Tonight was his night to shine. When DDA Hobbs offered a plea to the scumbag son of a bigger scumbag daddy, the sovereign citizen who had put the entire kidnapping play into motion and he denied it, she quite literally gave the wheel to Sanchez. Even Sykes, who talks a big game, was astounded at what he did.
Julio Sanchez is the heart of major crimes. He was the hidden heart all along, but we get to see him shine this season and Raymond Cruz is delivering stunning performances. If a teenage girl's life is on the line, you want Julio Sanchez on the team looking for her. He will set everything aside to save a life. We saw him go beyond the call of duty when his brother was killed, and we saw him take bullets for Provenza. None of this is a surprise, but it's so much better to watch when we get to see inside the mind of Julio Sanchez.
When the big shoot out occurred at the end, it was Julio who rescued the girl, pulling her out of a storage box and hugging her tightly. He didn't care if he knew her. He had saved a life, and her frightened soul needed his strong support. I teared up watching it and damn if I'm not doing the same writing about it. That's why this review is celebrated with only his character's name as a headline. It's well deserved.
Always in the wings is our little survivor, Rusty. He stands as some sort of moral compass for Raydor and the rest of the squad. He's truly amazed at how often the police have to lie to achieve results. It is rather astounding, and he was right to point it out. While it has turned out that Sharon didn't need Rusty to humanize her character, he still provides a good grounding point for her. 
Last week was a throw away episode, and I said it was good, lighthearted fun. It was. This week the tables were turned. There was little by way of fluff, and the show was superb. I'm not normally one to keep the faith, but with a writing team as good as the one that was behind seven seasons of The Closer, I had no doubt we'd be in for this type of quality. My argument was Major Crimes stands alone and as a very well crafted drama. Agree or disagree? 
Carissa Pavlica is the managing editor and a staff writer and critic for TV Fanatic. She's a member of the Critic's Choice Association, enjoys mentoring writers, conversing with cats, and passionately discussing the nuances of television and film with anyone who will listen. Follow her on Twitter and email her here at TV Fanatic.