NCIS Season Premiere Review: The Aftermath
Steve Marsi at .
"What's a four-letter word for surviving a terrorist attack? Luck." - Gibbs
NCIS kicked off its 10th season with another strong installment, one that was basically the final chapter of a five-episode arc, beginning in April with the burning of a Baltimore warehouse in "Rekindled" and concluding with Gibbs and Dearing finally squaring off mano-a-mano.
As premieres go, it didn't quite live up to the hype, with the conclusion a bit anticlimactic and parts feeling somewhat disjointed. Nevertheless, it was enjoyable, and it's great to have the team back in one piece.
Unlike last season's opener, which picked up the action months after the previous finale and saw Tony piece together the puzzle through a series of flashbacks, tonight began mere seconds after "Til Death Do Us Part" and the blast that rocked NCIS' headquarters, leaving its agents in peril.
With debris still in the air, Gibbs was ordered by SecNav Jarvis to proceed with "Extreme Prejudice" in the hunt for Dearing. First, however, we learned the status of his team members: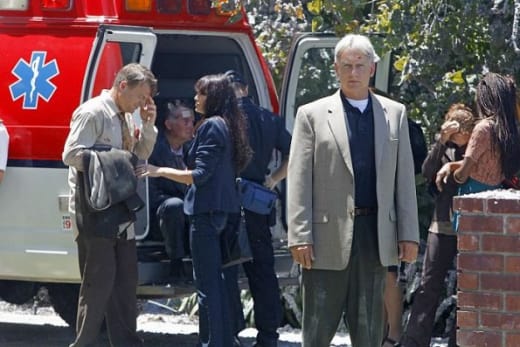 McGee sustained a shrapnel wound he wasn't even aware of until becoming light-headed. Anyone who's ever been through a traumatic event can attest to the masking of pain with pure adrenaline. Fortunately, he came back strong, and we saw him call Penny afterward. It's unclear if Lily Tomlin will reprise her role as his grandmother, but EP Gary Glasberg hinted to TV Fanatic that he may explore Tim's relationship with his father soon.
Ducky and Palmer reunited at the hospital, shortly after the former's heart attack. In one of the episode's most poignant moments, he encouraged his protege to return to work without him; in another, the old man came back and uncovered a critical clue (off the record of course, as he's still in recovery).
Tony and Ziva were trapped in the elevator (which they acknowledged right away was against protocol), until they were rescued by Abby in amusing fashion. The Tiva fan contingent likely wished they were stuck in there longer, and justifiably so, as those scenes blended some hilarious banter with the obligatory sexual tension. It looked like he was going in for a kiss at one point, but the status quo remains. Which isn't to say it wasn't memorable, between Ziva using Tony's head as a thigh master and calling him "ripe." Details Eli doesn't have to know.
Abby (and Vance) made it out of the building relatively unscathed … physically. She's clearly taking it harder than most, and it will be interesting to see in the coming weeks if she recovers her infectious enthusiasm. Tonight, it was MIA, and for good reason. If anything or anybody can make one question the good in the world, it's the actions of Harper Dearing.
Kick. His. Ass. Abbs' directive was certainly heeded by Gibbs & Co., but their adversary kept them guessing with a blast that claimed at least one member of Fornell's team, then by faking his own death.
Force the turnover, Make him keep playing. The plan to stage the arrest of Dearing's ex and draw him out of hiding failed, as he slipped through their fingers again. What they needed was a real game-changer.
Gibbs devised one, concluding that this self-proclaimed superior "whistleblower" wanted his final memories to be those of his son. Sure enough, they met at the home where he raised Evan, cassettes eerily playing.
Dearing drew similarities between himself and Gibbs in the standoff, which was a more intimate affair than expected. After he reached for a gun, Gibbs stabbed him once in the gut in self-defense. Game over.
By his own design, Dearing remained shrouded in mystery until the bitter end. While the entire story arc was excellent, Richard Schiff almost felt underutilized in the role; an actor of his pedigree could have made this jaded, vengeful villain even more compelling given more screen time. It's not that what we saw of him was less than convincing, it's just that a few more scenes would've offered greater insight into how a Navy father's obviously loving mind could become so terroristic.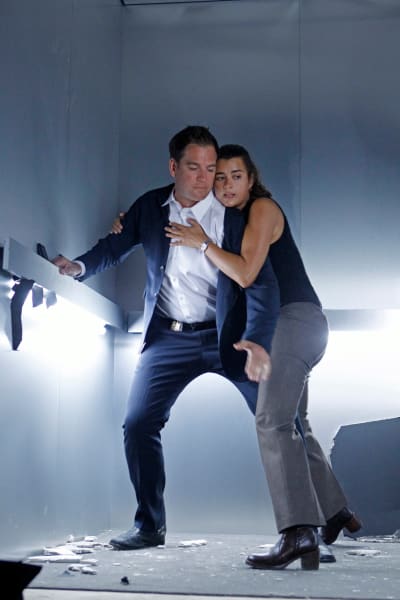 In any event, the villain met his long-overdue end with "Extreme Prejudice." Next week, the "Recovery" begins, and it will be interesting to see how the after-effects of what happened shift the show's landscape.
A few stray notes, quotes and observations before turning it over to you:
Of all the characters, the Ducky-Jimmy relationship may have shone brightest tonight.
Sad as it was that Tony Sr. didn't call, it looks like he'll pay another visit this season.
Like the episodes themselves, the blast was said to have occurred May 15, 2012 and the memorial outside the building dedicated September 25, 2012.
Evan's words on the audiotape, played during the closing sequence with a smiling Gibbs looking on: "I love this country. I want to protect it. I want to protect what it stands for."
And the million-dollar question ...
Why does Gibbs need a bigger basement and what exactly was he measuring for?
What did you think of tonight's NCIS Season 10 premiere? Discuss below!
Steve Marsi is the Managing Editor of TV Fanatic. Follow him on Google+ or email him here.