Kurt Yaeger plays a key role on Sons of Anarchy Season 5, coming on board the FX thriller this season as Greg the Peg.
But before we get to what lies ahead for this Nomad, it's worth noting the incredible journey that has taken Yaeger to this place in his career.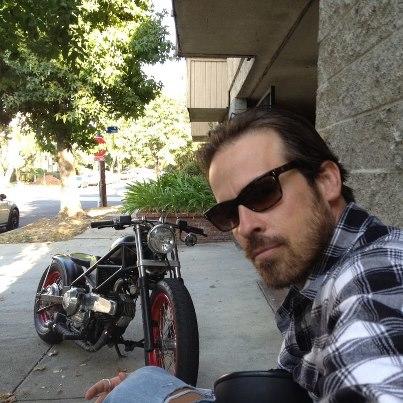 The San Francisco native started acting and riding as a child, appearing in church plays and hailing from a motorcycle-loving family in Northern California (sound familiar?).
A BMX veteran, Yaeger was pursuing a Masters Degree in Hydrogeology when he got into a severe motorcycle accident. It resulted in a torn ACL and MCL; a fractured pelvis and vertebra; a concussion; and the amputation of his left leg.
Following four months prone in a hospital bed, Yaeger then spent another nine months trying to recover… only to be told that doctors had messed up the initial amputation. Another would be needed.
"That was my darkest place," Yaeger told me. "But through a series of small decisions, I decided: the Hell with this. I'm not gonna let this stop me. I'm gonna figure out how to make it all work."
Thanks to special shoes - courtesy of footwear brand Etnies - Yaeger got back on a bike. He became the first amputee to ever pull off a backflip.
"That was a goal and I nailed it," he said. "And then I decided to really pursue acting."
How did he end up on Sons of Anarchy? Yaeger can't say for certain if his prosthetic foot got in the door because he introduced himself to Ron Perlman at a golf course or Kurt Sutter at least year's Boot Ride in California.
But he walked in to the audition room and read for Greg the Peg and says he knew the part was ideal for him.
As for what the Nomads want with Clay's documents? Yaeger has this acting thing down, merely teasing:
"Nomads have to make money, too, right? We're just doing what Nomads do. Our alliances are to be announced."
Tomorrow night's "Laying Pipe," meanwhile, has been hyped as a major game-changer. And, yes, someone will die on it, Yaeger promised.
"It's equally as moving and powerful as the season premiere, if not more," the actor says. "Reading it, I was jumping up and down like a little school girl."
He hopes to someday feel the same about the presence of disabled actors and actresses on television.
"Less than one half of one percent of all words spoken on TV are from the mouths of a disabled person," Yaeger laments, adding that these individuals comprise 20% of the population, making for some disappointing math.
With a few steps into the SAMCRO clubhouse, however, Kurt Yaeger, is hopefully on his way to helping change that.
Matt Richenthal is the Editor in Chief of TV Fanatic. Follow him on Twitter and on Google+.