We have come to the point in the The Voice's third season when the blind auditions should be tiresome and we just want to move on to the next round already. Fortunately for the good people at NBC, Blake Shelton is single-handedly making that impossible.
Although he didn't land a single contestant on his team on Tuesday, Blake was on fire all night long. Between his comments about Christina being abusive to her team members and making 10 artists quit the business just after meeting her, and then his remark about Benji not sounding like Adam because of his lack of jack assery, I couldn't have been more pleased with Mr. Shelton's performance.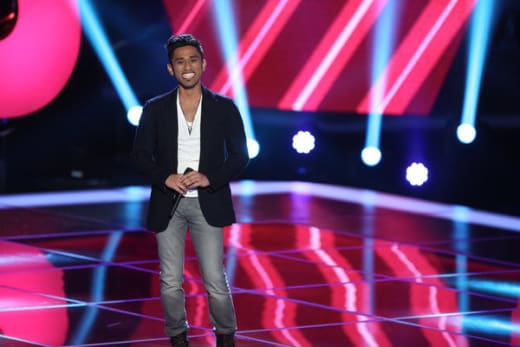 Team Blake
Tuesday: 0-for-4, Total: 7-for-21 (33%)
Even though his comic stylings were on point, his ability to woo prospective team members was way off, losing out to all the other coaches, including a couple of one-on-one battles against Xtina and Cee Lo. By the end of the episode he even noted that he's going to need to try harder to garner more contestants from this point forward.
Team Cee Lo
Tuesday: 4-for-6, Total: 11-for-30 (37%)
Somebody who had no problem picking up contestants - for the second night in a row - was Cee Lo Green. The self-proclaimed current king of soul music picked up four new performers, but we saw very little of Todd Kessler, Ben Taub, and Emily Earle.
The newest member of Cee Lo's squad that we did get to know was Mycle Wastman. This not-40-looking 40 year-old was silky smooth and sexy on "Let's Stay Together." I'm not sure if his style and sound will pay off in the long run on a competition like this, but darn it if that wasn't a fantastic audition.
Team Xtina
Tuesday: 1-for-1, Total: 10-for-18 (56%)
Unlike Cee Lo, who seems to turn around for anybody with a voice, Xtina continued to stay hidden from the contestants, only turning around once all night. She beat out Blake for her one singer, picking up Joselyn Rivera after performing "Stronger" to the delight of many.
I mean it was just meant to be for this girl right?  Her doctor prescribed music when she wasn't doing well at an early age! Look how it turned out...she's on Team Xtina on The Voice! Her audition was fine, but a bit too copycat, and not nearly as good as the original. All the notes were hit, but it was a bit too boring to warrant any thought of her advancing far in this competition.
Team Adam
Tuesday: 2-for-3, Total: 11-for-21 (52%)
Two contestants ended up on Team Adam Tuesday night, including maybe my favorite so far this season in Benji. The former formula one racer slayed me with his version of "Knockin' on Heaven's Door." I loved his sound from the jump, but when he added the scream to an already fantastic tone, I lost it. Add onto that an absolute command of the stage and the crowd and we may have a potential winner on our hands.
Adam also picked up Collin McLoughlin. His "Wild World" was in a word, pleasant. His voice was very nice and completely warming to listen to, but nothing about the performance made me step back and take notice. Adam said that the kid had one of the best tones in terms of pitch he had seen on the show, and I don't disagree with him. Although the audition wasn't my favorite, I see loads of potential.
---------------
There were a couple of notable swings and misses on Tuesday, but my favorite had to be Lorraine Ferro. She was absolutely loving life out there on that stage. She may have absolutely destroyed my favorite pop song of the past five years, but at least she had herself a good time. If I laugh that much when my dream crumbles in front of me at age 50, it will be a good day.
So what did you think of the fifth round of blind auditions? Who was your favorite contestant? Which team is shaping up the best? And how funny is Blake Shelton?
Dan Forcella is a TV Fanatic Staff Writer. Follow him on Twitter.