It was a short and sweet version of The Voice on Tuesday's second night of blind auditions. We saw only six performances during the hour, and I think I preferred that to the sometimes dragging two-hour version.
There was talk of a Harry Potter/Justin Bieber hybrid, Blake hanging championship banners in the arena and of course a couple of exciting performances during the episode. Let's take a look at how it all went down...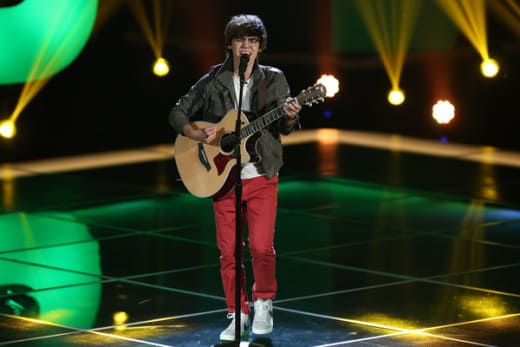 Team Xtina
Current Members: De'Borah, Devyn Deloera
Christina Aguilera picked up the first team member of the night, winning over 22-year-old bartender Adriana Louise after Louise won over all four of the coaches with "Domino." This was probably the most surprising event of the night, as I did not think this was all that special of a performance. The vocal sounded pretty pedestrian, and then there were some bum notes, so I'd be happy if I were one of the other three superstars.
The only other time Xtina turned around Tuesday night was for Aquile, and she landed him as well. Beating out Adam and CeeLo for the rights to this silky smooth singer, Xtina ended up pretty good for the night.  Aquile, who had his jaw wired shut at one point in his life, gave a staggeringly smooth performance of "Your Song." As Adam said, it was "good from the first note."
Xtina was a perfect 2-for-2 on turn-arounds tonight, which puts her at a healthy 4-for-6 (66%) on the season. Apparently everyone loves Xtina, even though she has yet to win this thing. Most of the time the contestant's reasoning is that they owned her album growing up. I guess that's understandable.  Maybe.
Team Blake
Current Members: Terry McDermott, Gracia Harrison
Other than constantly reminding everyone that he won last season - something Adam Levine did just as much last spring - Blake spent most of his time grabbing a couple of very unique performers for his team on Tuesday night.
Casey Muessigmann was seemingly made for this business just based on the pronunciation of his last name alone. His performance of "Sweet Home Alabama" produced a nice bit of country twang, but I didn't get all that excited over it.  Unlike Blake, who loved Casey's ass-spanking.
To end the night Julio Cesar Castillo won over both Blake and Cee Lo with his entertaining version of "La Bamba." He sang an entire song in Spanish, something nobody has ever done on The Voice. He's different, he has a nice tone, and he has some serious power.  Did you hear how long that one note went on?
Blake went 2-for-3 on the night, helping to build his season record back up to 4-for-10 (40%). The returning champ should be getting more love from the contestants don't you think?
Team CeeLo
Current Members: Daniel Rosa, Trevin Hunte
I would say "poor CeeLo" because the only contestant he picked up this week was one that he was the only one to turn around for, but it's his own fault.  He never puts that much of an effort into courting his team members. I love him for that, but it's no way to play this game.
CeeLo turned five times, finally landing Mackenzie Bourg when nobody else hit their button. Luckily for the cockatoo-loving coach, Mackenzie was really good.  I'm not sure why CeeLo was the only one digging the kid who was compared to both Harry Potter and Justin Bieber, but it may end up paying off for him. Mackenzie's "Pumped Up Kicks" was extremely cool, and being "cool" got Tony Lucca a long way last season.
Going 1-for-5 on the night plummeted CeeLo to a paltry 3-for-11 (27%) through the first two nights of season three.
Team Adam
Current Members: Bryan Keith, Joe Kirkland
Adam didn't land a single contestant Tuesday night even though he hit his big red button for both Adriana Louise and Aquile. Luckily for the Maroon 5er, the coaches may be able to steal other contestants during the season this time around.
----------------
So there it is. Another episode in the books, and we are one step closer to the next round of The Voice. Who was your favorite of the night? And which coach is putting together the best team so far?
Dan Forcella is a TV Fanatic Staff Writer. Follow him on Twitter.