Revenge Review: Sympathy For the Devil
Steve Marsi at .
Just as her perfectly orchestrated plot unraveled before her eyes, an embattled Victoria Grayson pulled a rabbit out of her hat and successfully reascended to her throne as Queen of the Hamptons ... for now.
All it took was a convincing aura of "Confidence" and a high-wire PR act.
The resurrected Grayson matriarch still has plenty of obstacles - and enemies - in her path after Aiden and Emily forced her hand before the press conference, but this woman is darn near impossible to break.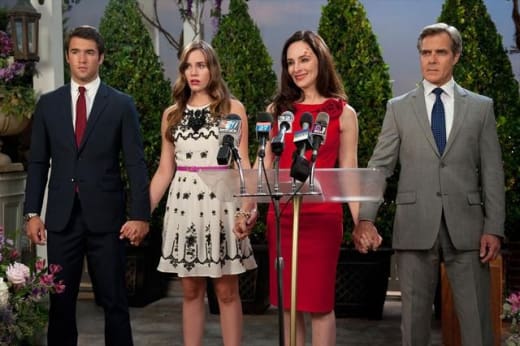 Largely relegated to the shadows in the previous two weeks, this was Madeleine Stowe's night, and she delivered in typically captivating fashion. The actress is so perfectly cast in this role, it's uncanny.
Stowe's facial expressions are priceless and make it hard not to love her, or at least love to hate her, even as you root for Emily Thorne. It takes a brilliantly complex character to achieve that.
This is a woman who framed her true love and the father of her daughter, sent his other kid to the foster care system, faked her own death and lied to everyone imaginable about ... everything.
Yet somehow her sad, depleted look still gets to you when she's under duress, and that calculating stare when she's plotting her next move makes you so glad she's alive. Props to Stowe all around.
On the cusp of losing control of the family, and more importantly the perception of solidarity she longed to keep intact, Victoria copped to her affair with David and welcomed Amanda into the fold.
Wow. The puppet master does it again. Charlotte, Amanda and especially Daniel may not buy Vicky's display of unity beyond this week, but that was an all-time save with her back to the wall.
Conrad? He's even more unabashedly evil, with no qualms about getting into bed with The Initiative - or telling the media that he and Victoria will re-marry - just to keep her under his thumb.
Diabolical, really, and one of many new twists in this increasingly tangled web. Revenge creator Mike Kelley has hinted at two weddings this season, so it looks like the Grayson Tuscan Sham is #1.
For now, the White-Haired Man (real name Gordon Murphy) still looms large over the show, which is fun in that only Emily, Aiden and Nolan know he's been dealt with. Where did they hide the body?
He may have breathed his last, but Gordon played a major role this week thanks to a pair of phone calls: 1. His proposition to Victoria before she got on the plane, and 2. Kara Clarke's voicemail.
Kara, played by Jennifer Jason Leigh and making her first present-day appearance, apparently knew WHM well. So well that he carried a pocket watch with her smiling face inside. How creepy is that?
Her run-in with Aiden was a surprise, immediately preceded by his looting of the flight recorder from the air conditioner (Dexter would be proud of WHM). Can you imagine if he knew who that was?
If Kara does go dark, it may be awhile until he and/or Emily put the pieces together. Playing her message at the end will only reinforce Emily's desire to track down her long lost mother, of course.
Also, Victoria's "if that" comment about Charlotte and Amanda's familial bond was telling, not unlike Conrad's "you're a Grayson" line in Season 1. Is there something more she's not telling us about WHM?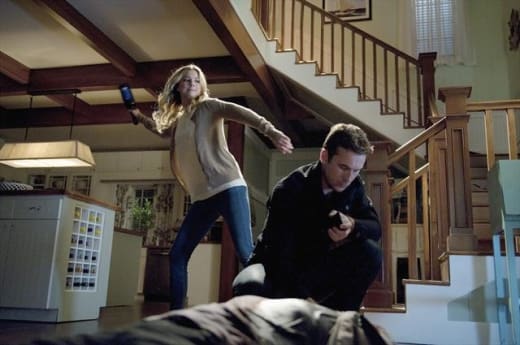 This week also offered us more insight into the back story of Emily and Aiden, beginning with their training under Takeda and ending with him choosing his "mission" over their romantic relationship.
Having failed to find his sister, is he back to help Emily complete her mission? To make up for breaking her heart in 2008 and win her back? He's certainly a skilled ally, but what's Aiden's endgame?
Through his machinations so far, Daniel is now distrustful of his mother, Amanda gives Emily even greater access to the Graysons (though she's always a wild card), and a certain psychopath is dead.
He can also absorb a wine bottle to the head - always a good sign in any partnership. It will be interesting to see where the producers take Barry Sloane's character in the future, considering his past.
Our protagonist fell for him and was crushed that he left her in Japan. Years later, she's still not over it, and no all-knowing Japanese mentor is going to turn Emily Thorne into an emotionless robot.
Takeda wants Emily to let go of her heart and be utterly ruthless, a precision-focused instrument of destruction in her quest for vengeance. Four years later, she's still struggling with his directive.
That hint of innocence, compassion and human decency make her one of TV's most beloved female superhero, even as she's putting people in dumpsters. If she lost it, she'd be a lot less compelling.
Elsewhere tonight ...
Nolan got his clock cleaned by Aiden, but was clearly more hurt emotionally by the presence of Ems' new right-hand man. Poor guy. Fear not, he'll be back. And he still got in some good lines.
Amanda is proving tougher to control than Emily planned. Despite constant scheming to keep her at bay, nothing quite works out the way she draws it up when it comes to FauxManda.
Jack no longer trusts his baby mama-to-be after the Grayson charade, and kind of broke up with her. At some point soon he's going to figure out that Emily's really Amanda, right?!
Dec robbed people and got caught, then was let off the hook by his mark.
Ashley wore a pretty green dress, but Emily's fashion was still tops.
The promo for next week looks even crazier than tonight!
Revenge still has more work to do in terms of weaving so many storylines together, but if you look at constructing the overall narrative as a season-long endeavor, it's off to a terrific start this fall.
Before turning it over to your comments, here's next week's Revenge promo ...
... and a quick poll: Who has the best chemistry with Emily Thorne?
What did you think of tonight's Revenge? Comment below!
Steve Marsi is the Managing Editor of TV Fanatic. Follow him on Google+ or email him here.