Call it November Sweeps if you want, but Modern Family hasn't busted out an episode this good in weeks. On "Arrested," Claire, Phil and Mitchell must head up to Haley's college after she gets arrested.
As Cam stupidly confided in Lily, Haley getting nabbed was only a matter of time. I think we can all agree on that.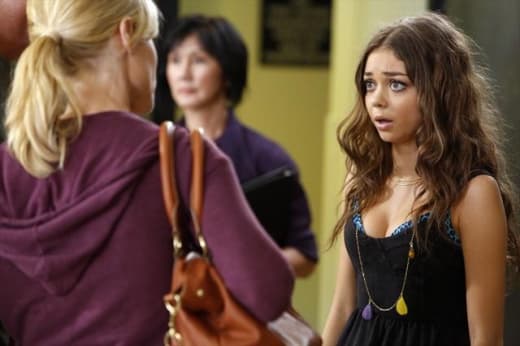 I always say that my favorite episodes of Modern Family are the ones that feel the most relatable. Without delving into much detail, I'd say that at least half of the people I know got into trouble in college, myself included. I may or may not have gotten a citation the month before my 21st birthday. But that's neither here nor there. After a few weeks without our beloved resident ditz, Haley was back on the scene and stealing the show.
The fact that the police called in the middle of the night and the whole thing became a family affair is what I love so much about this show. Why is Cam so paranoid, though? Nobody is questioning his parenting skills! Maybe he shouldn't be so quick to hit the send button on his cellphone, but other than that he handled the Luke crisis wonderfully. Hey, Alex even got to play a little Grey's Anatomy. Probably the best line of the night went to Luke when he was in the hospital.
Lily [pulling the IV]: What does this do?                                                                                                                                                                           Luke: I don't know but thanks to Obama you're paying for it. | permalink
How timely was that? You know that Luke is a secret genius! Everyone thinks Manny is the smart one since he's so sophisticated and well-read, but Luke has some hidden brainpower in there. However, I'm not sure that he would make the best pen-pal.
The fact that Manny writes Deedee letters had me cracking up. Yes, Shelley Long made a guest appearance as Jay's ex wife and for once she wasn't choking Gloria. It just goes to show that a little common ground is all two enemies need to strike up a conversation. Well... common ground and a common enemy. Still, I'm glad Gloria and Jay made up by the end. And why is everyone always poking fun at Stella?!?
I have to say that I was truly surprised that Haley got kicked out of school and wasn't just put on probation or sentenced to community service. It was clear in that video that she did not resist arrest and she did not assault an officer. She fell off a fire escape and onto a police officer. As for the underage drinking, if every student caught underage drinking was kicked out of school, there would be nobody left to attend classes. 
Either way, I'm happy to have Haley back and I'm happy that Claire didn't have to play bad cop for once. Phil really stepped up to the plate. Someone get that man a waffle! One last thing, did anyone else notice Dylan's painting of him and Haley hanging in her dorm room? Simply amazing.