After last week's introduction of Teddy's ex Peggy (Kimberly Williams Paisley), we were left wondering what big secret she and Teddy were hiding. It didn't take long for us to learn.
In "Move It On Over," it turns out that Peggy helped Teddy embezzle, and then return, $2 million when his finances fell on hard times.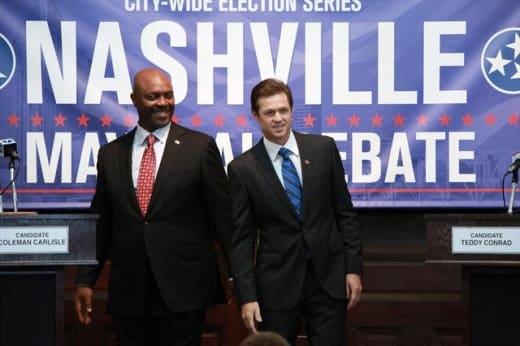 Peggy panicked when auditors started sniffing around, so Teddy turned to the only person he could think of: Lamar. Lamar is easily the best and worst person to go to about a problem. Yes, he probably has the resources and balls to deal with just about anything. On the other hand, he doesn't always wield his power for good. Teddy just made a deal with the devil. Lamar can pretty much make you or break you.
Do you think Lamar had anything to do with the photos taken of Teddy and Peggy? Could it be some sort of test of resilience? Or is this purely political? I'm not sure if I think Coleman would really stoop that low. Then again, Coleman did make some pretty below-the-belt remarks at the debate. 
Then there's the added factor that Rayna would flip out over what Teddy did and that Teddy went to Lamar for help. She has been very ardent about not wanting any assistance from her father. That relationship isn't exactly rock solid; then again none of Rayna's relationships are at the moment. I admire her for trying to put her husband first for once and leave the past in the past, but that's hard to do when it means cutting out somehow who has been a significant and influential part of her life.
It figures that Deacon and Rayna would go their separate ways... only to end up writing songs about each other. Just think about the lyrics for Deacon's song "Sideshow:"
If you know what's good for you, you'll just let it go                                                                                                                                                               Or you'll end up next to me in her sideshow. 
The problem is that these two can't live with and can't live without each other. Their relationship is unhealthy yet essential to both of their makeups. Were you surprised to see Juliette bail Deacon out of jail towards the end? It's good that he took his own advice. Sometimes you just need someone to be your friend. It didn't surprise me that Juliette's way of thanking someone was trying to sleep with them. 
Juliette basically has no one and she and Deacon are actually probably good for each other. Her mother would not have willingly gone to rehab if it weren't for Deacon's help. I still can't believe that unprovoked slap Jolene laid on her child! Juliette does need a new start and its great that she channeled her energy into her work and something healthy. However, picking up and moving won't always solve her problems. She saw a therapist only once? Yikes!
Sometimes, even if you aren't trying to look in your rearview mirror, the past is going to affect your present anyway. Scarlett and Avery will never be the same. It's sad but it's simple. He is jealous of her success, even if he tries not to be and she has feelings for Gunnar even if she tries not to have them. I'm glad Gunnar looks to be moving on with Hayley, but there is still heat between these two songwriters.
What did you all think of this week's episode? Don't forget to check out our Nashville quotes section and hit the comments!