"The Target" was a funny enough episode, but like most of what The Office has put forth in its final season, there was nothing all that special about it.
Maybe it was because I couldn't care less about the Oscar/Angela ordeal, but nothing ever really clicked to tie the half hour together. Dwight had a number of humorous moments within that story line, but the ruined friendship for Oscar and Angela was lost on me. I didn't care about the result.
Dwight: I'm not in your panties, I don't go vigilantes.
Dwight: It's cruel, because a woman with damaged knees can't scrub worth a damn.
Dwight: He and the senator are gaying each other.
Dwight: There are a million gorgeous guys in the Scranton/Wilkes-Barre area, and you choose the man who's a father of her child?
I was also surprisingly pleased with the work of Chris Gethard as Trevor. After watching him ruin a fantastic comedic season out of Chris Parnell with his drab straight man routine on the quickly cancelled Big Lake, I thought very little of the man's ability to entertain. Gethard was interesting here, though, playing the weirdo very nicely.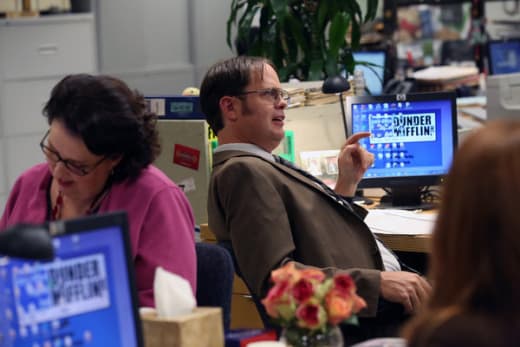 On the other end of the weird spectrum was New Jim, who seems to be the most normal character on The Office since Old Jim. Jake Lacy hasn't been all that funny since arriving on the series at the start of the season, but there is something about that makes him just so likable.
Whether it was his idea to start making a tower out of the comment cards, or his ability to lead when Kevin knocked down said tower, New Jim earned a spot as someone I would prefer the stories revolve around the rest of The Office Season 9.
And while I continue to hate everything revolving Jim and his new part-time job, Stanley and Phyllis gave that a reprieve this week by going to town on Jim's expense account at lunch. Watching them order seafood and wine until they were fat, happy and sloshed was extremely enjoyable. Jim fretting over the whole thing was less so.
Check out some of the other highlights from "The Target" below, hit up out The Office quotes page, and then way in on what you thought of the ep. What was the funniest moment? What was the least funny sequence? And what would you have made Jim do if you were Phyllis and Stanley?
Angela asking Oscar about the temperature in the office.
Dwight being all covert by using SMS text.
Trevor proving he had a gun and then the quality of his safe by showing receipts.
Dwight getting Oscar out of the office by telling him there are construction workers in the warehouse without their trousers.
Trevor's pipe-sandwich was so out there that it went passed stupid and became hilarious.
Dan Forcella is a TV Fanatic Staff Writer. Follow him on Twitter.