"It Ain't Easy" reintroduced the suspected teenage arsonist we met in "Two Families," and this time the firehouse wasn't quite as welcoming.
If there's one thing we've learned about these men and women, it's that that they look out for their own first. If Ernie started the fire that moderately injured Vargas' lungs, you knew he was going to be in for a world of hurt.
It turned out that the injury to Vargas may have saved his life, making it kind of hard to be angry at the person who started it. After an examination, they discovered he was well on his way to emphysema, continuing the lifestyle of a firefighter with all the dangers of inhaling smoke and other toxins would only speed up the ride to end his life. Vargas had to retire.
As always, I teared up. This time it was when they gave him a goodbye gift of his helmet, signed by the entire house.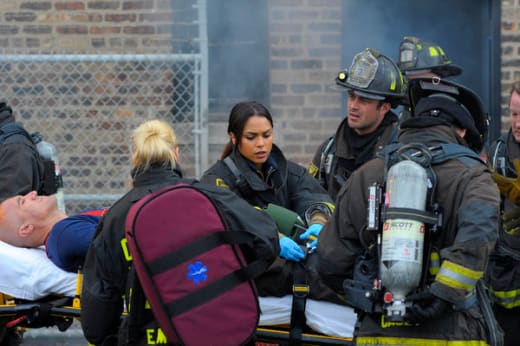 Sarah Shahi debuted this week. After being rescued by Kelly, she dropped by the firehouse to give him some chocolates and ask him to lunch. Renee Royce was a forward woman, for sure, but Kelly was dead wrong in his assessment that she was attracted to him because he rescued her. Is Kelly the hottest drug addled character on television with salt and pepper hair? He has my vote. I think he had her's as well.
Could Kelly getting involved with Renee finally be the catalyst to get him out of his drug cycle? Maybe caring for someone other than himself will make him realize he has something to lose, and that his life is worth saving. As it stands, I don't think he cares enough about his life stop his habit and get the help he needs. 
With Vargas having a hard time leaving the house, quite literally - he came back immediately after he retired and didn't leave - Kelly made himself even more irresistible to Renee by inviting Vargas to their dinner. There are good things coming for Severide. I can feel it.
Vargas, on the other hand, was completely lost. Dawson and Casey were having their big moment after Casey helped her with some home repairs and they were ready to share dinner, listening to Aimee Mann's "Save Me" when Casey got the call. Vargas was on the ledge, contemplating suicide. He had nothing else and didn't know what to do. My grandfather was a fire commissioner. The fighters never left the job. They may have retired, but they were always in the game. Time will tell how involved Vargas stays with House 51.
Tonight was a night of unfinished stories. Boden didn't give up on Ernie, and yet we're no closer to understanding what's going on in his life. My guess is he was kidnapped or something and is living with this "Uncle Ray" who served time for arson. I'm feeling pretty good that Ernie is a victim of some sort and Boden's on the right track.
We also had Cruz's brother Leon, deeper in gang territory than ever. He was jailed and bonded out, but Cruz wasn't satisfied. He paid a visit to the dudes in control, but even threats didn't keep Leon safe. He landed at Joe's feet after being tossed out of a car, battered and bloodied. Will the rest of the firehouse come to his aid like they did for Casey when he was being terrorized by Voight?
So much was left up in the air, but a lot was moved along, as well.
Next week will be the mid-season finale with a promise that the last two minutes will take our breath away. Since Chicago Fire comes close to doing that every week, I can't even imagine what's in store. In the meantime, check out the Chicago Fire quotes, add your own if they were missed and drop your comments on the episode below.
Carissa Pavlica is the managing editor and a staff writer and critic for TV Fanatic. She's a member of the Critic's Choice Association, enjoys mentoring writers, conversing with cats, and passionately discussing the nuances of television and film with anyone who will listen. Follow her on Twitter and email her here at TV Fanatic.