In true finale fashion, the last Nashville episode of 2012 was filled with plenty of excitement, surprises, and cliff hangers.  "Where He Leads Me" led almost all of our favorite characters to limbo as their fates now hang in the balance while we wait over a month for the next episode.
Seriously, not since the season two finale of Las Vegas have the futures of this many people been in question.  I understand that Connie Britton, Hayden Panettiere, and a number of other series regulars wouldn't likely be leaving the show, but the fact that so many characters might be heading in a new life direction made every moment of the hour that much more interesting.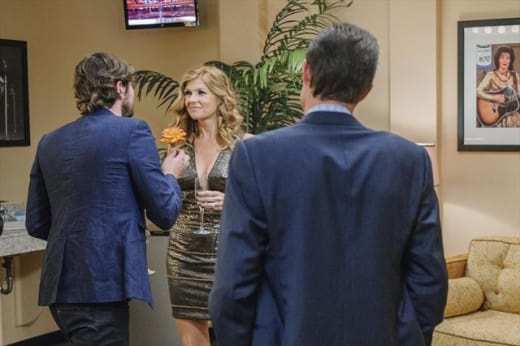 Let's begin with the Queen of Country, who seemingly had two sticky situations going on.  First, the Teddy issue came to a climax as Coleman leaked the photos of him and Peggy.  He didn't cheat, but he did embezzle a whole bunch of money, which is certainly awful enough to make Rayna question her marriage.
Combine that with the fact that the label is so happy with her and Juliette's duet that they want the two of them to go on a gigantic arena tour and you have a serious chance that Rayna might head out of town for a while.  She didn't say no to the offer, mostly since it now includes the two ladies alternating who closes the show, but I still highly doubt she could stand spending that much time with the Princess of Auto-tune.
Speaking of Ms. Barnes, boy did she throw a bomb shell at us to end the ep?!?!  Proposing to the QB is certainly one way of shoving Juliette's baggage in Momma Butler's face.
As much as I disapprove of that action, I can't blame her for doing it after what happened.  Jules must have been absolutely crushed when that woman said that about her.  What made it so much worse was that this was the most smiling we had seen from her in an episode multiplied by 100.  With her bf, with the sister, singing at church, and having dinner with the whole fam, she finally looked happy.  Way to ruin it lady!
So was that a serious proposal?  Will Sean take it that way?  Would he say yes?  And what on earth would that do to his family?
While we're on the subject of family, let's review what the big, happy family of Avery, Scarlett, Gunnar, and Haley got into this week.  Only one of the two love triangles was on display as Avery spent most of his time being courted by Wyclef Jean.  Yes, the fact that he was going to be asked to dump his band was obvious, but that doesn't mean I'm not interested in where his story is going.  He's off to Atlanta, and who knows when he'll come back?
The other three, meanwhile, were breaking up and making out all over the place.  He may be a good singer, a fine songwriter, and an all-around nice guy, but I still don't understand why either of these wonderful ladies are into Gunnar.  The dude is the worst.  Haley was right on the money when she sarcastically proclaimed "that doesn't sound possessive and weird, at all."
He IS possessive. He IS weird.  What's worse though, is when he's possessive of Scarlett, a girl he has no right to be possessive of.  I'm sure they'll get together sooner rather than later, but I know I'm not going to be a fan of their relationship.  It's too on the nose at this point.
Finally, we get to the man who continues to be one of the easiest characters to like on television.  Freakin' Deacon!  After a bit of thought, a couple of conversations with friends, and the realization that a newly sober all-star band might be the best thing for him, Deacon agreed to go out on tour with the Revel Kings.
Will he actually go through with it?  How long will the tour be?  And might it coincide with Rayna and Juliette's?
Around every corner of Nashville "Where He Leads Me" led us to another question.  What will happen next?  Who will be doing what the next time we see them?  The unknown always makes things interesting, which is why the break between now and January may seem like ages.
I might have to order my copy of the Nashville Original Soundtrack between now and then.  What did you all think of the episode?
Dan Forcella is a TV Fanatic Staff Writer. Follow him on Twitter.