The Voice's final live performances opened last night with a group rendition of Leonard Cohen's "Hallelujah," in somber tribute to the victims of the Sandy Hook Elementary School tragedy in Connecticut.
On a candlelit stage, all the contestants joined Blake Shelton, Cee Lo Green, Adam Levine and Christina Aguilera in holding name cards of the victims and their ages, leaving not a dry eye in the house.
Then it was down to business, although very little from last night was likely to change the outcome. Cassadee Pope, Terry McDermott and Nicholas David have already distinguished themselves this fall.
We have no way of knowing how close the voting has been since the live shows began, but the three clearly have diverging fan bases and musical styles. It's all going to come down to whose fans vote.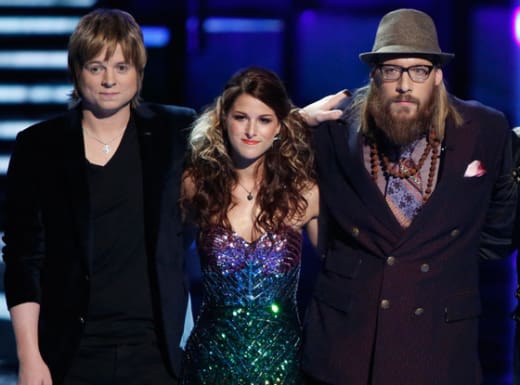 First up last night was Nicholas David with a fiery medley of Jerry Lee Lewis' "Great Balls of Fire" and Jimi Hendrix's "Fire." Seriously, that piano may have actually been on fire during that spirited effort.
Saint Nick is always a soulful performer, but he kicked it up a notch this week in the energy department. David also reprised his signature cover of "Lean On Me," bringing the house down once again.
Classic rock singer Terry McDermott, for his final solo effort, selected "Broken Wings" by Mr. Mister. Despite a couple of mic snafus at the beginning, he recovered well and was pitch-perfect as always.
Terry also performed "I Want to Know What Love Is" a second time, and rocked out with Blake Shelton on "Dude Looks Like a Lady" (with a shirtless, long-haired Adam Levine on guitar, obviously).
Pop rocker turned country queen Cassadee Pope sang "Cry" by Faith Hill, proving without a doubt that she can hold her own with the best of the genre. She also reprised coach Blake's "Over You."
We also got to witness each contestant spending time at their coach's home with their family, which was a lot of fun. Tonight, expect even more filler (albeit relatively awesome filler) on the finale.
Whose performances were your favorite last night? All season long? Who's got what it takes to win the third season and be named The Voice on Tuesday's results show? Comment and vote below!
Who should win The Voice?
Steve Marsi is the Managing Editor of TV Fanatic. Follow him on Google+ or email him here.