American Horror Story Season 3: Romance! Returning Cast Members! More Scoop!
Jim Halterman at .
With the finale of American Horror Story: Asylum coming next week on FX, there were certainly a lot of questions for series co-creator Ryan Murphy following an invite-only screening of that episode on the Fox lot in Los Angeles late yesterday.
While details of the Asylum finale can't be discussed until after next Wednesday's airing, Murphy did spill some juicy details about what we can expect with Season 3. Here's what he let slip…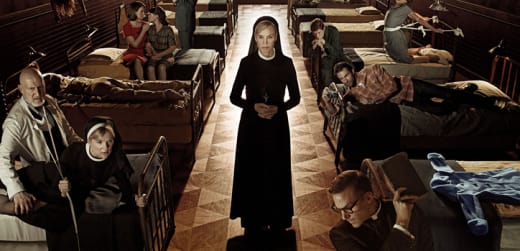 Who's In? Returning actors for the third season include Sarah Paulson, Evan Peters and Jessica Lange. Like the previous two seasons, they will be playing completely different characters in a new setting. Murphy also wants to bring more actors back from American Horror Story Season 1, as well as new actors who have yet to appear on the series.
More laughs? As happy as he was with Asylum, Murphy hopes the new season will be funnier than the first two: "I miss that Jessica Lange as Constance, that stuff, and I know that she missed it, too."
Female power! Murphy explained that Season 3 will set in modern day, but will go to other time periods. It will be "a mixture of several cities and it's really about female power and I got Jessica to do it because I did everything she asked, which was the location and I also told her that she'll have complete hair and makeup and the best designer gowns ever... she's going to play a really glamour cat sort of lady for season 3."
No more aliens! "I think I'm done with aliens," he said, referring to the storyline in Asylum. "I thought the alien stuff was interesting because I always thought it was so metaphoric and take it or leave it and I think that stuff was polarizing for people. The thing that I thought that people would not like was the Lily Rabe possessed by Satan, which was by far a great fan favorite this year.
Season 3 will continue in the miniseries tradition as well.
"Like [Sarah] Paulson said," Murphy explained, "I like that it has a beginning, a middle and an end. It's very novelistic... I hope this show goes for 10 years because I have so many different kinds of horror I want to write about."
More or less violence? Murphy, saying he was speaking only for himself, added that with the recent real-life acts of terror, it has made him think a bit more carefully about violence: "I do feel like if you're going to tell a story with a gun, take a step back and think about it. That doesn't mean we won't do it but I would probably do it responsibly…"
The Asylum finale airs Wednesday, January 23 at 10 pm on FX. Season 3 will air in the fall.
Jim Halterman is the West Coast Editor of TV Fanatic and the owner of JimHalterman.com. Follow him on Twitter.