This episodes of Bunheads was so full of cultural references that I couldn't have kept a list if I tried. I almost lost track of the plot in an attempt to catch them in the first few minutes, so if you want to give a shout out to your favorites in the comments, have at it. To put it in Fanny terms:
Fanny: Every time we have a conversation, I feel like I need to add more movie channels. | permalink
In the meantime, I'll run down thoughts about "I'll Be Your Meyer Lansky."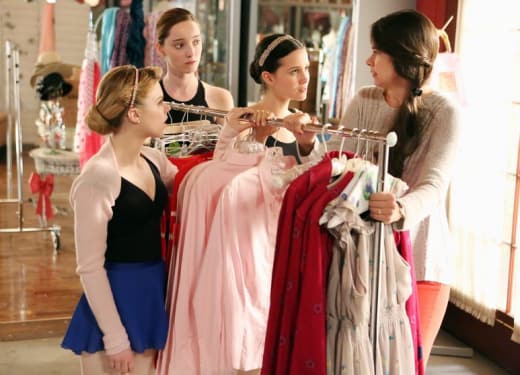 First and foremost, thank goodness Fanny was back. Did you notice how she fleshed out Michelle's quips and they didn't fall flat? Their little duet in the accountant's office about panning for gold was far more enjoyable than such a discussion should ever be allowed to be. Everything they talk about together is perfection, but apart? Not so much.
As they traipsed around their property trying to determine a way to make money out of their copious amount of property, they actually came up with an idea that would make great sense for the two of them and their skills. An amphitheater. They have the space for it, they come with talent and have the party planning experience. The only thing they didn't have was money, or the realistic timing expectations.
Thinking they could come up with the idea for a business, let alone one that requires a physical building, zoning, permits, parking and restroom facilities - and get it up and running in three weeks - was ludicrous. Although even that didn't compare to Michelle thinking her brain was sifting out of her ears just because she found out she never graduated from high school. The more she thought it was happening, the more stupid she became.
How incredibly insulting was it for her to toast Godot about being stupid? Her assumption that because he surfed and worked in his family's restaurant he must have been a high school drop out was the worst thing her character has ever done. It made no sense for her. The Michelle they had introduced to that point had a good heart, but that Michelle was cruel and mean. I got that she was hurting, but lashing out wouldn't win her any points. What was the point of running around telling everybody anyway?
It took the enjoyable return of Fanny and turned it on its head.
It's too bad Truly didn't have a better financial sense because her business sense was obviously very astute with as many customers as she had coming in and out of Sparkles. She let her sister run her over all the time, and Millie ended up offering Michelle a partnership with she and Fanny for the amphitheater. I was really expecting them to see something in Truly they could work with; maybe that will come to pass. Millie will be more awful to work with than Eric the accountant.
Sasha and Boo were barely seen, while we had a great opportunity to get to know Melanie better. It was really sweet that her love for her brother and his being dumped publicly had such an impact on her. After she knocked the gal that dumped him on her ass in school, she reenacted the trick with Godot, who didn't deserve it, out of love for Michelle. Strangely, it earned her an invitation from Cozette to join the roller derby. I was thinking about how much I disliked her, but then she pulled out that little nugget. Maybe she'll be alright after all.
By the way, last week in "Channing Tatum Is a Fine Actor" I spelled Cozette "Cosette" because that's the only way I could find it referenced on the internet. During this episode on the screen for the trivia game was "Frankie and Cozette." I can only imagine they would have spelled their own names correctly, so going forward I'll be spelling it Cozette. It amazes me how often official information is unavailable. Thus the change in spelling!
We ended the episode with Sasha again lost and without knowing where she was going to be living. She turned to Michelle. I expected the easy resolution of Michelle offering her guidance and home to her, but with their financial woes and her new stupidity, I guess the timing was off. Michelle said she had her back, but with Sasha's mom gone and house keys in her hand, that's hardly the comfort I was hoping she would receive.
Sometimes I don't know if the dances, like one in the final scene, are just for viewers as an alternative to a voice over to highlight the state a character is in or if it's something the girls were working on in the studio. In this instance, it sure seemed like an extension of the show instead of a part of it.
What are your thoughts on that? Do you think it was meant to explain in dance form something about Sasha's situation without explanation? 
Carissa Pavlica is the managing editor and a staff writer and critic for TV Fanatic. She's a member of the Critic's Choice Association, enjoys mentoring writers, conversing with cats, and passionately discussing the nuances of television and film with anyone who will listen. Follow her on Twitter and email her here at TV Fanatic.