It was really hard to top the first episode of this week's Happy Endings, "The Marry Prankster." However, a solid effort was still put in to the second installment, "Our Best Friend's Wedding."
After all, you couldn't expect our favorite neurotic and over the top Penny Hartz to get engaged without some sort of wedding planning episode, right?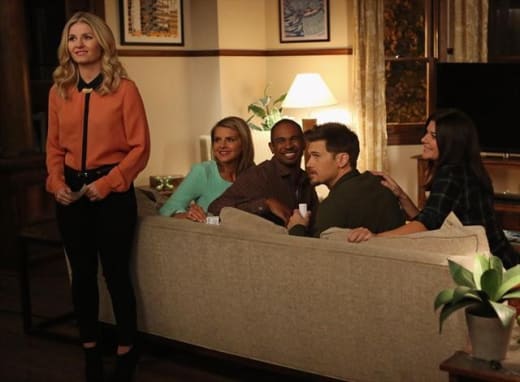 Just as much as we couldn't miss out on Jane milking everything out of the idea of being a wedding planner. I mean, seriously, if this wedding does end up happening Jane better be rocking a Monica Geller headset. I know Happy Endings is often compared to Friends but Jane is an edgier more nymphomaniac version of Monica. Besides, I love both these shows so who really needs to compare anyway?
The reason I say this wedding might not come to fruition is because it would change the dynamic of the entire sitcom. Penny could end up getting divorced, but in general, they don't want everyone to couple off when Max is still single. Besides, didn't everyone notice that intimate Dave and Penny pep-talk about having the weddings of your dreams?. I know he said he loved Alex and that was all that mattered, but Penny and Dave still gravitate towards each other with their similarities. Plus Dave and Alex do have their issues. Lots of references to that time she left Dave at the altar.
Then again Brad and Max have their similarities, but we know that's not happening. Love that Jane paired them as a fake gay couple for the expo because they both have the chops to pull off their coupledom flawlessly. Harsh dig with the Paul Giamatti and Tyson Beckford comment though. Max is totally better looking than Giamatti! C'mon now! 
Come on boo, it's not like you never thought about it Harvey chocolate Milk. | permalink
Another reason I'm worried Penny and Pete won't make it down the aisle is because Penny will without a doubt turn into a bigger bridezilla than Dave was. Sorry dude, you were not "Chillzilla". Also I wouldn't give Alex a tiny pet when that evil genius thing really only lasted one episode. 
I get the P shaped sandwiches for Penny and Pete, but what is with the lowercase b's? | permalink
Oh you adorable idiot savant, we love you. But back to Penny, she didn't even remember to invite their own fiancee to her engagement party! I just hope that she's able to stay happy for more episodes. However if Jane ever makes a jack in the box of herself again, with a voice saying "I'm gonna be your wedding planner" I want this wedding kaput. That was so creepy.
So which of this week's Happy Endings did you like better? Will Penny and Pete make it? Will Penny and Dave ever hook up?