Nashville returned this week after a long hiatus and we were rewarded for our patience with a lot of revelations in "Be Careful of Stones That You Throw."
All of the major characters were in play, as we had news of one marriage, an illegitimate child and the dissolution of a band for one man's future success, among other developments.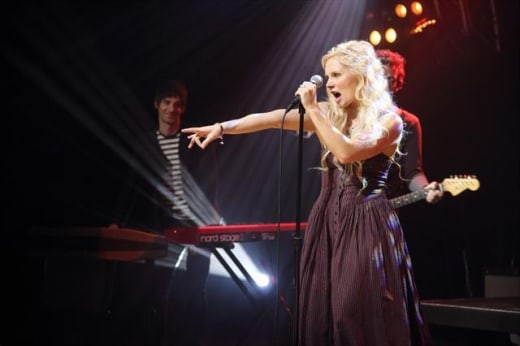 It was weird enough that Sean got married without discussing it with his family, being as close as they are, but even more bizarre that he, a grown man, chose to call his parents over to the house and tell them without his new wife present. I did love that Deb and Brock had no choice but to accept Juliette into the family, even briefly.
It's too bad I don't have the same faith in Sean standing up to them when they inevitably get their nasty opinions ingrained into their son's brain. Deb's snark about Juliette's mother and rehab, especially as a Christian woman, were just too over the top and painful. The underhanded talk to Sean about meeting her mother? Unacceptable. I'm kind of hoping the arena tour is bus-driven and that Deb finds her way in front of one.
Even though that whole plot line felt rushed and contrived, it rivals what happens in Hollywood. We read about people who get married only to annul their vows within weeks all the time. Because Juliette and Sean weren't married in the church, can their marriage be annulled? Or does it have to be dissolved in some other way? I'm going on the assumption Juliette's jumping onto a jet instead of walking down the aisle means their wedded bliss has come to an end.
Even though Teddy initially put up a fight at the thought of Rayna taking their girls on the arena tour, I wound up feeling proud of his admission to Tandy that he didn't really think he should fight her on it. How could he not realize the truth behind her seeing their current environment as toxic to their children? An election is difficult enough on children, but when you toss in a fraud investigation, an alleged affair and attempted suicide leaving for a while seems like the very best option.
We can all stop wondering now whether Rayna and Teddy rushed their marriage for a specific reason. Maddie isn't his child, and he's known about it all along. You had to love the look on Lamar's face when that little nugget came out. It was priceless.
I thought it was wonderful how Teddy's response to Lamar gave Rayna a different perspective and she felt comfortable enough to let the girls stay with him while she went on tour. I didn't know if Teddy had it in him to put Lamar in his place, but I'm damned glad he did.
I wonder whether Deacon has any idea about Maddie. Could that be the rope that held he and Rayna together? If it was, I'd think we would have seen a moment of he and Rayna talking about it already. 
Deacon on tour is unsure of his own future. He clearly misses his old life and took the gig to get away. It might make him see things more clearly, but what that might mean in the long run is anybody's guess. Rayna turning to Deacon would be a bad idea, but I could see it happening if he had ended up on the road with her instead of where he is now. He's not the only one making difficult choices at the moment.
Avery doesn't have the easiest decisions to make, and I really don't think he wanted to leave his band behind. But when you are in a cut throat business like the music industry and someone offers you a chance, you have to weigh what's best for you. Part of me thinks he made the wrong decision to leave them behind, but then they were hardly supportive of his success, so what kind of mates were they, really?
Given an opportunity for a guitarist to join an established band, were we supposed to believe one of them wouldn't jump at the chance? If the idea was for us to think it was band and music over success, they didn't adequately portray them in that sense. Scarlett's reaction was essentially the same, and her own actions could hardly be held up as stellar. She had no problem jumping onto the stage when she knew how Gunnar felt about it interfering with their writing. What made her decision different than Avery's?
I liked Scarlett much better when she was timid and shy. This flamboyant stage bunny persona doesn't work on her. Her swagger and sway on stage felt insincere instead of powerful. I don't know what it is, but her stronger side is a turnoff to me. Maybe I liked the idea of having at least one woman on the show who didn't feel like she had to lead the world by the balls.
I am all for strong women, but I don't believe all women are strong and when they start being written that way, I get worried. Before you jump to conclusions, I feel the same way about male characters, and believe Nashville has a wider emotional range of men than it does women at the moment. That's a rarity.
In the end, Scarlett did choose to write with Gunnar, but I wasn't clear on whether she had put the idea of joining the band behind her or not. She can certainly see the seductive side of success now and maybe will cut Avery some slack the next time she sees him.
There was a lot of music in the episode, making it just fly by. Even though I dislike the idea of Scarlett performing with the band, I prefer her style on stage to her vocals on the couch and outside of the character enjoyed the track she sang a lot. I'd like to hear more from the band Deacon is touring with, but I don't think he'll be with them long enough to get a song onto the next soundtrack album.
If you want to know about the songs of Nashville, be sure to check out our Nashville music section. 
Carissa Pavlica is the managing editor and a staff writer and critic for TV Fanatic. She's a member of the Critic's Choice Association, enjoys mentoring writers, conversing with cats, and passionately discussing the nuances of television and film with anyone who will listen. Follow her on Twitter and email her here at TV Fanatic.