Guess who's back!
Lucky for fans of The Lying Game, "Advantage Sutton" has two answers for that question. After all, double the fun is the motto on this ABC Family show.
Let's start with our favorite twosome. Sutton has been frothing at the mouth to "get her life back" from Emma. You know, the one she forced Emma to take. With Rebecca's blessing this week, Sutton put her plans into motion.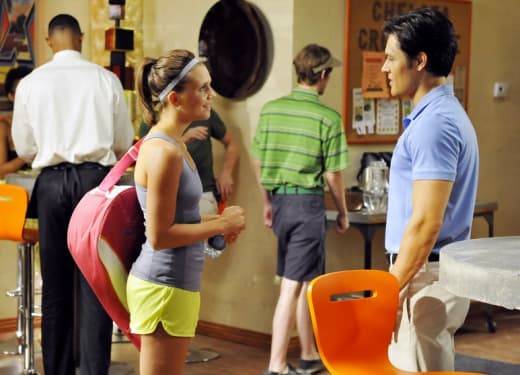 Rebecca needed more of an in at the Mercer household so she sent her bored, horny and troublemaking daughter back for recon. We all know that Sutton is up for the challenge. Ted is just not interested in any word that a woman has to say, so of course sending in one of his daughters is the best move. Seriously, Rebecca actually has no leg to stand on right now. I've never seen a guy less interested than Ted is in her.
Time to play the trump card, which it looks like she realizes next week. Hey Ted, by the way we have twins!! Will she go through with it? I kinda hope so but I guess that would be the end of the "lying game." There's still so many questions to be answered; for starters we still don't know who killed Derek! Alec knows Rebecca set him up. Now we just need to find out who was on the other end of that phone call at the end of the episode before Alec swept into that Harlequin romance sex scene.
Speaking of sex scenes...hot damn Sutton and Ethan! As sultry as that was, it did a disservice to high school virgins everywhere who think that sex in high school is all great lighting, hard bodies and an awesome soundtrack. It's okay, The Vampire Diaries is guilty of this crime as well. I also love when TV shows use sex dream flashbacks as a device. Ethan sure woke up in a panic. Since obviously Emma now knows about his night with Sutton, the real person he should be worrying about is Jordan.
Jordan is catching on really quickly to Sutton's ability to just materialize out of nowhere from across town. He will definitely be the next person to find out about the twins. Right now Jordan's got his own drama with Laurel and Mads. Will Mads continue living with the Mercers now that Laurel caught her tonguing Jordan? It's either that or live with potential murderers Rebecca and Alec. At this point, I might choose seclusion at the cabin with Emma.
Emma knew that if she forfeit that tennis match that Sutton would take her life back and she'd be off to cabin city. Yet she still ran off the second she heard Thayer was in trouble. Who do you think is the number-one guy in Emma's life right now, Thayer or Ethan? Do you blame Thayer for leaving after Alec's horrific comment to him?
The only mistake I made was taking your bastard ass in when nobody else gave a crap about you. | permalink
Murderer or innocent, Alec is a dick. Plain and simple. I think things are going to get a lot more interesting now that he's out behind bars. I love Ted and Kristen as parents, but as far as drama and entertainment they are pretty dullsville.