As John Krasinski told Movie Fanatic earlier this month, The Office is going to start getting emotional. Not only for the actors, and the other people that have made this show happen over the last nine years, but also for the fans. That was clear during "The Suit Warehouse."
For those of us who have stuck around through thick and thin, it should be a rewarding ending no matter how things turn out for our favorite and - also our less than favorite - characters.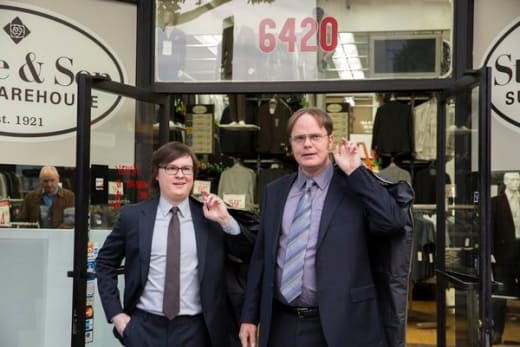 For example: even if they stick the guy who is supposed to be the heart of the show in a boring story about getting a new job in Philadelphia, which is more confusing in its ambiguity than it is humorous, we will still always be involved.
We care about Jim, so every move that he makes has an effect on us, even if most of his lines are about key demographics and other jargon that makes it seem like none of The Office writers have any clue what his new job is really about.
Darryl, on the other hand, I couldn't care less about. They attempted to stick that landing when he electrocuted those fish with the basketball, but it didn't hit. Do we have a real emotional attachment to this guy? I know I don't.
Back on the hilarious side of things of "Suit Warehouse," Dwight and Dwight Jr. made their way to the eponymous company to make a sale pretending to be father and son. And for as much steam as The Office has lost over the past couple of years, Rainn Wilson has never slowed down.
Whether it was making up back stories for him and Jim that no client would ever hear, saying "I love you" on the phone after Jim had hung up on him or giving Clark the business after he found out the Suit guy hated his own son, Dwight was on fire.
Only Dwight Kurt Schrute could make a poop joke seem sophisticated. Seriously, I couldn't stop laughing at the statement about his fake son waiting around to collect more cat turds. So when Clark called him out about the specificity of the stories, I absolutely lost it when Dwight smiled and said "You got me."
As the rest of the Dunder Mifflin crew went crazy over the new espresso machine (Did I say it correctly, Oscar?), "Suit Warehouse" had a few other highlights in a nice bounce back episode after last week's less than fantastic start to 2013.
Check out our The Office quotes section for many of the best lines from this week's episode and then let us know what you thought of the episode in the comments.
Dan Forcella is a TV Fanatic Staff Writer. Follow him on Twitter.